She Dreams of Fire Audiobook

Published by: Amber Cove Publishing 02/19/19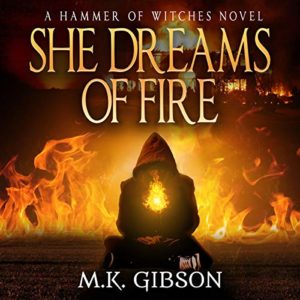 11 hrs and 43 mins
She Dreams of Fire Audiobook Sample
She Dreams of Fire Audiobook

4.5 Hearts
This is a new series by M.K. Gibson. I've listened to his work in the past with The Shadow Master series. It is a series I've really enjoyed with some dark humor to it. So, when I was given the chance to try a new series by him, I jumped at the chance. The fact that Xe Sands is the narrator was an added bonus.
This story follows Aggy. A woman with a difficult past. Her mother died when she was a child. Actually, that's way to tame. Her mother was murdered and burned to death as she hid in from the murder. But she was a small child (six, I think), what else could she do.
There is also Marcus. He is former military and an EMT who found her and gave her a transfusion from the man who killed her mother (who didn't live long from the injuries he received from the mother). That changed Aggy's life forever.
Many years later, Marcus is now a doctor and saves lives. Aggy struggles with her life. She has a drug problem and a therapist. She also has a pet rabbit, who is a great character in this book. She also has a great friend in Ji.
Lastly, I need to tell you about the villain, Venessa. She's a cop, but also a witch. She works on cases for both the coven and the human world. She isn't a good witch or a good cop. She does whatever it takes to get the job done. She has no problem sacrificing human or supernatural to get her job done. And I mean sacrificing in the literal sense.
This is a great first book in a dark urban fantasy series. It has the right combination of suspense, mystery, and great characters. I really liked the mythology in this story. Some of it I was somewhat aware of, others, I've never heard of. While there isn't as much humor as in The Shadow Master series, there is still some humor involved in the story (her aunts and Ji are great).
She Dreams of Fire Audiobook Narration
4.5 Hearts
Xe Sands does a really good job with the narration of this series. There is a vast array of characters and she voices them all really well. I really enjoyed her voice for Ji, who was very flamboyant. She did a good job with both the male and female voices and the tone of the scene. If you haven't tried her, I highly recommend her narration.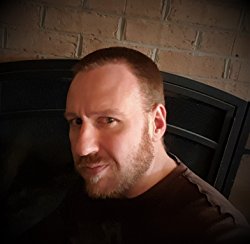 Hi, I'm Mike Gibson (Gib or Gibby to my friends). I'm a father, husband, writer and a retired US Air Force MSgt with 20 years of service. Back in 1980, when I was 5, I saw the animated version of The Hobbit and was a geek from then on. All I have ever wanted to do was to write and tell stories.
On one of my walls at home, I keep framed rejection letters. Every so often I look at them to keep myself writing and also to remind myself some people are idiots.
I live with my wife, son, 2 dogs and cat in Mt Airy, Maryland.
I love to read, play video games, exercise and watch movies. I'm a lover of all things geek and I'm a highly opinionated, socially/politically neutral person. I feel those who live and die by a brand, or party, are doomed to fail as human beings. I also mock those who refuse to let go of the Oxford comma.
In short, I'm an asshole. Yet, a lovable asshole. I hope.
Narrator: Xe Sands
Xe Sands is an award-winning narrator known for her authentic characterizations and intimate delivery. She has more than a decade of experience bringing stories to life through narration, performance, and visual art, including recordings of Wonderland by Stacey D'Erasmo, The Art Forger by B. A. Shapiro, and Survival Lessons by Alice Hoffman. Sands has also been recognized for her engaging romance narrations and was named Most Impressive Narrator Discovery for titles such as Catch of the Day by Kristan Higgins and On Thin Ice by Anne Stuart.
I like to thank M. K. Gibson for providing me with a copy of this audiobook in exchange for an honest review.
Reviewed by: