Snared Audiobook

By: 

Jennifer Estep
Narrated by: 

Lauren Fortgang
Published by: Audible Studios 04/25/17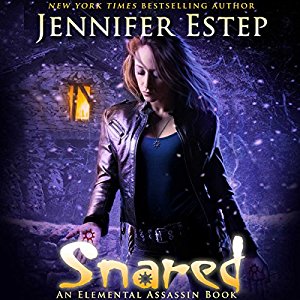 10 hrs and 30 mins
Snared Audiobook

4 Hearts
There aren't many series that can be sixteen books in and still be interesting and exciting. I tend to get bored with series easily lately, but Jennifer Estep has kept me on intrigued with this series from book one and it has never faltered.
In this book, Gin has one of the underworld bosses, Jade Jamison, calling in a favor when Jade's sister comes up missing. Gin and the gang quickly uncover that there's a serial killer in Ashland. There's always been a lot of killings, but those were more like gang killings, this is the first serial killer that we've seen. I will say it was a nice touch.
Gin also hasn't forgotten about the Circle. She is determined to find all the members. She learns that mother had a larger roll in the Circle than originally thought. She remembers a lot through dreams, which has become a theme throughout the series. Every book, Gin dreams and remembers the exact thing she needs from her past. While this is a bit repetitive, I like learning more about young Gin.
This is a really fun series that I have loved since book one. I love how Gin is a very strong female character. I love seeing how she's grown over the series. I love her group of friends. She was an orphan (after her family is brutally murdered in front of her) to creating a family of her own making. She may be a criminal underworld leader, but she also has morals and wants to take care of her own and people who need her help (if only real underworld bosses were more like her). If you haven't tried this series, it is one of my favorite, going strong at #16.
Snared Audiobook Narration
4.5 Hearts
What to say about Lauren Fortgang's narration that I haven't already said. She does an amazing job. I love all of her voices, both male and female. I love how she sets the scene's pace and tone. Fortgang is a favorite narrator of mine. I've listened to a few things with her and I've always enjoyed her narration.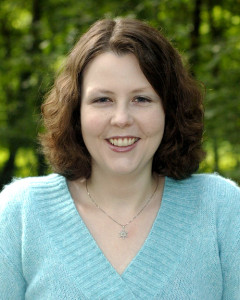 Jennifer Estep is a New York Times bestselling author, prowling the streets of her imagination in search of her next fantasy idea.
Jennifer has worked as a features writer and page designer for a daily newspaper and has more than 10 years of journalism experience. She's a member of Romance Writers of America, Science Fiction and Fantasy Writers of America, and other writing groups.
Jennifer's books have been featured in Cosmopolitan, Entertainment Weekly, Southern Living, and a variety of other publications.
Jennifer writes the Elemental Assassin urban fantasy series for Pocket Books. The books focus on Gin Blanco, an assassin codenamed the Spider who can control the elements of Ice and Stone. When she's not busy killing people and righting wrongs, Gin runs a barbecue restaurant called the Pork Pit in the fictional Southern metropolis of Ashland. The city is also home to giants, dwarves, vampires, and elementals – Air, Fire, Ice, and Stone.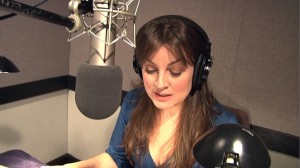 Lauren Fortgang lives in New York City where she currently works as an actor and voiceover artist. Born in Wilmington, DE, she split her time there with an upbringing in a variety of rural towns in northern California. She had early training at A.C.T.'s Young Conservatory and is a graduate of Fordham University: College at Lincoln Center, where she majored in theater. Her curiosity for finding new niches in the industry has afforded her a broad career spectrum, both in and out of the 'spotlight' as actor, singer, spokesperson audiobook narrator, podcaster, and even costume designer.
Television credits include roles on Law and Order (NBC), Law and Order: SVU (NBC), and Important Things with Demetri Martin (Comedy Central). Recent theatrical endeavors include Creation Production Company productions of Escape (LaMama E.T.C. – 50th anniversary season) and Laughing Pictures (The Flea). She's worked in a variety of capacities with a delightful smattering of companies headed by Fordham alumni and professors, and hopes to continue to support the work of this network of artists and friends. She seeks evolvement in independent films such as the recent Astoria, Queens and The Sunnyside Murders, both of which were featured at a variety of festivals, including Queens World Film Festival, NYTVF, Breckenridge Festival of Film and NewFest.
Her commercial gigs cover national on-camera and voiceover spots for Ikea, Walmart, TJ Maxx and Woolite. She's given voice to material spanning from video games to textbooks and works regularly as an audiobook narrator at Audible, Hachette, Penguin, Random House and beyond, having recorded roughly 150 unabridged titles and some 200 segments for monthly programming. She has received recognition from Audiofile Magazine, the Audio Publishers Association, the American Library Association and the Young Aldult Library Services Association, USA Today and Publisher's Weekly.
A hobbyist-extraordinaire, she (at any given moment) might fancy herself a baker, gardener, chef or seamstress and plays coed touch football weekly.
Finally, no bio would be complete without noting the enormity of gratitude owed her parents for supplying her freedom of imagination and a bottomless well of encouragement during the ups and (more importantly) the downs. A couple of folks 'having your back' for a lifetime is no small thing…
Lauren is a proud member of SAG-AFTRA.
Reviewed by: