Splintered Silence Audiobook

By:
Susan Furlong
Narrated by:

Amy Landon
Published by: Brilliance Audio 12/26/17

A Bone Gap Travellers Mystery #1
8 hrs and 57 mins

Splintered Silence Audiobook Sample
Splintered Silence Audiobook

4 Hearts
I've never tried anything by Susan Furlong before, but when I saw a thriller read by Amy Landon, I decided to give it a try. I'm really glad I did, because I really enjoyed this new story by a new-to-me author.
Brynn is an Irish Traveller who grew up in the mountains of Tennessee. Irish Travellers are a group of people who some might call gypsies. They travel a lot, but will sometimes settle, but usually away from the more mainstream way of life (what they call settlers). They want to keep their culture separate and don't trust the settlers (and they have good reasons not to). Brynn had a really bad experience as a child and left at eighteen to join the Marines.
Brynn is now out of the military, she has physical scars and mental scars after surviving an IED blast. Her canine partner, a cadaver dog named Wilco, is now retired with her. He lost his hearing and a hind leg in the explosion. They both suffer from PTSD.
Brynn finally comes back to her roots in Tennessee to help her Gran with her ailing Grandfather. When her dog runs off, he does what he does best. He found dead human remains. This takes Brynn down a great journey of learning about the past, healing from that past and in some ways, the PTSD.
I really like how the author talked about this group of people. I think showing them from Brynn's point of view helps you to see both sides of these Travellers. Because she grew up in this group, she understands them. She also sees things more like the "settlers" see them. I think it gave great perspective to this group of people that many don't understand. I also like the author's note at the beginning which helps explain her association with Irish Travellers and how she tried her best to represent them in the best way she could. You can also go to the author's website for more information.
I also really had a great time with the characters of this book. Brynn is a great character. She is a war hero trying to make it back in the civilian society. This isn't easy for the best of us, when you add in that she is part of a sect of people who expect women to marry and have children, she didn't really fit into either world. Only her dog is there for her every step of the way.
The second characters are really good too. Brynn's grandmother and grandfather, who raised her since her mother was gone. There is Gran's new neighbor who is searching for his missing sister. Brynn's cousin. Also, the sheriff and his deputies who help with the search for identity of the dead woman that Wilco finds in the forest. They are all great characters that fit together really well.
If you like a good murder mystery, this is a fun story that includes a population of people that many in the US don't know about. It is interesting to see things from their point of view, as the author tries to help break down the stereotypes that have plagued them since they arrived in America.
Splintered Silence Audiobook Narration
4.5 Hearts
Like I said, I'm a fan of Amy Landon. She is the thing that caught my eye to get me to look harder at this book. She is a great narrator who adds a lot of personality to her characters. In this book, she had to do Irish accents for several people. There is also the cops that aren't part of the Travellers. They have a more typical Southern accent. Anyway, I felt that Amy Landon nailed the narration of this book. She kept me on the edge of my seat and really helped me to connect with the characters.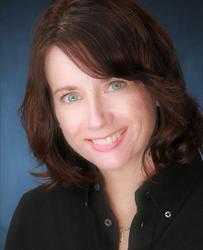 Susan Furlong is the author of the Georgia Peach Mystery series and the forthcoming suspense novel, SPLINTERED SILENCE, the first book of the Bone Gap Travellers Mysteries. She also contributes to the New York Times bestselling Novel Idea Mysteries under the pen name Lucy Arlington. She has worked as a freelance writer, academic writer, ghost writer, translator, high-school language arts teacher, and martial arts instructor. Raised in North Dakota, she graduated from Montana State University with a double major in French and Spanish. She and her family live in central Illinois.
Narrator: Amy Landon
Amy Landon is a classically trained actress with numerous off-Broadway, film, and television credits. Her voice can also be heard on many television and radio commercials. She has an easy facility with dialects, which she also coaches and teaches, and she is happy to find her lifelong obsession with books is matching up with her acting and vocal work.
I like to thank Brilliance Audio for providing me with a copy of this audiobook in exchange for an honest review.
Reviewed by: