Sweep in Peace Audiobook

By:
Ilona Andrews
Narrated by:

Reneé Raudman
Published by: NYLA 12/15/2015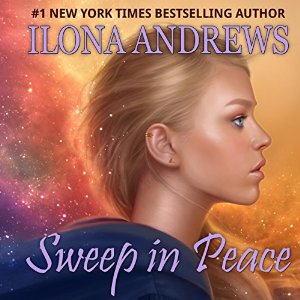 10 hrs and 47 mins

Sweep in Peace Audiobook Sample
Sweep in Peace Audiobook

5 Hearts
This is such a fun series. First all, it is originally published as a serial on Ilona Andrews website for free for their fans. I just love that they are willing to do this for their fans. It is not something that they have to do, but they love doing it and the fans love it too. I'm not a fan of serials, so even with the first book, I choose to wait until it was done, planning to read the finished piece. Then they put the ebook for sale, which I quickly bought for convenience and to support this great idea. Then, they took it one step further and got their awesome narrator, Reneé Raudman, to put it on audio. This got me extra excited. So when they did the second book, I sat on my hands, holding my breath, hoping beyond hope that Reneé Raudman would read the second book. So here we are!!!
Okay, enough of me babbling about how much I love Ilona Andrews and Reneé Raudman. I should probably talk about the story. This series is about Dina DeMille is an innkeeper of Gertrude Hunt. Gertrude Hunt is no ordinary inn. It's an inn for people not from Earth. It has special abilities and is truly a character in this story as much as any person in this story. It is also neutral ground. The innkeeper will protect anyone who is a guest within it's walls.
Enter the arbitrator. He needs to try to negotiate a peace treaty between three warring factions. The arbitrator has asked all the other inns and they have turned him down. It is too dangerous and too unlikely to bring peace. But Dina, is desperate. Her inn needs guest and money, so she decides to take the risk.
One group are the vampires of the Holy Cosmic Anocracy, which appeared in the first book. The second group are the Otrokars aka the Hope Crushing Horde. Lastly are the Merchants of Baha-char. They are a fox like group, which are all about the money and are not the war-like race, unlike the two other groups.
When Dina realizes that she will need a staff to cook for her and her 36 guests, she goes looking for someone. She locates a highly rated chef, that has been disgraced because he has been accused of poisoning someone. He is also full of drama, which gives many chuckle worthy moments. Orro is a character that really helped make the book.
My future chef was an oversized, hysterical hedgehog with a martyr complex.
Lastly, I'll add the icing on the cake. If you've read Ilona Andrews The Edge series, you will recognize  the arbitrator. He is George Camarine. He appears as a child throughout the series. Here, he is all grown up. You can still see many of his aspects, though he is not the same person as he was in that series. He also brings along Jake, his shapeshifting brother, and Gaston another character from the Edge. Lark/Sophie also makes an appearance too. I've been wanting to see them again, ever since they ended The Edge series.
This is another great addition to the series. I love how Ilona Andrews is able to ordinary and make it extraordinary. When she buys PS4 to alleviate boredom of a group of warriors. She is sent on a mission to find a "grumpy cat" for a different guest. And hands a football to the other warriors and explains that "Football is a wargame of land acquisition." It is just a well written series, with phenomenal characters and some of the best world building on the market.
A quote of when Orro first sees Dina's kitchen. Needless to say, he is unimpressed. LOL
"Like a primitive savage, who sets out to tame the wilderness armed with nothing but a knife and his indomitable will, I will persevere. I will wrestle victory from the greedy jaws of defeat. I shall rise like a bird of prey upon the current of the wind, my talons raised for the kill, and I shall strike true."

"Oh wow. I hope the inn filmed that."
Sweep in Peace Audiobook Narration
5 Hearts
Once again, Reneé Raudman is an artist with the narration of this story. There are so many different characters and yet she is able to do all the different voices and give them all different personality and voice. There were men, women, children and Orro. Orro, was full of enough drama to fill an entire high school theater. She even did a great job bringing back the personality of characters that she hasn't voiced in at least three years in The Edge characters. She continues to prove to my why I keep her on my list of favorite narrators.
Ilona Andrews is the pseudonym for a husband-and-wife writing team. Ilona is a native-born Russian and Gordon is a former communications sergeant in the U.S. Army. Contrary to popular belief, Gordon was never an intelligence officer with a license to kill, and Ilona was never the mysterious Russian spy who seduced him. They met in college, in English Composition 101, where Ilona got a better grade. (Gordon is still sore about that.)
Gordon and Ilona currently reside in Texas with their two children, and many dogs and cats. They have co-authored two series, the bestselling urban fantasy of Kate Daniels and romantic urban fantasy of The Edge.
Renée Raudman is a multi-award-winning audiobook narrator. A multiple Audie Award nominee, she has earned a number of AudioFile Earphones Awards, including for The Last Secret by Mary McGarry Morris and Wesley the Owl by Stacey O'Brien, as well as a Publishers Weekly Listen-Up Award for Joe Schreiber's Chasing the Dead. She has also performed on film, TV, radio, and stage, including the recurring roles of Jordon on ABC's One Life To Live, Phyllis on NBC's Passions, and guest-starring roles on prime-time TV. She has been heard in cartoons (The Simpsons, Billy & Mandy), videogames, and on the E! channel. Her narration of Homer's Odyssey by Gwen Cooper was selected by Library Journal as one of the best audiobooks of 2009, and her reading of Marthe Jocelyn's Would You was selected by the ALA as one of the best young adult audiobooks of 2009.
Reviewed by: