The Audiobook Salad Edition Three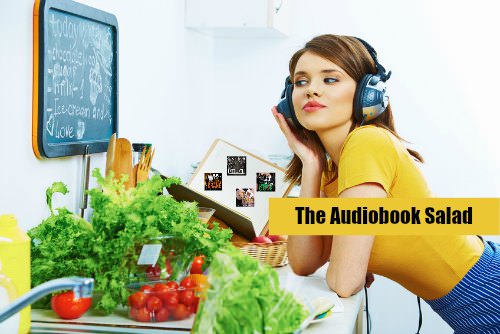 Today on the Audiobook Salad
Pride Mates
Off The Edge
The Dangers of Danger a Rebound Vampire
The Master
Pride Mates Audiobook
Pride Mates Audiobook
Overall 4 Hearts
Shifters have come out and they took steps to help the humans feel comfortable around them. They wear collars to keep them aggression in check. They also live on something similar to reservations. They can't have some of the basic luxuries that humans can have.
Kim is a human lawyer who drew the short straw to represent a shifter who is on trial for murder, which should be able to happen with his collar. The suspense is a little predictable, but there are some twists that I did suspect. The romance was wonderful and full of passion. There is a bit of the instant connection between the two. I'm excited to see where this series goes.
Rating: 4 Hearts
Pride Mates Audiobook Narration
I liked the narration. Pride Mates is the only book that Traci Odom narrates for this series. There is a change in audio publisher, so there was also a change in narrator. I thought she did a great job with this book and would've been happy if she continued with the series. I haven't listened to the second book yet, so I don't know if the change is for good or bad yet.
Rating: 4 Hearts
Pride Mates
By: Jennifer Ashley
Narrated by: Traci Odom
Published by: Audio Realms Inc. 10/26/2011
Duration: 8 hrs and 17 mins
Sensuality: HOT
Genre: PRN
Series: Shifters Unbound, book #1
Summary
To most, they are animals—even when in human form. They are to be collared and kept on the fringes of society, scorned because they are feared, hated for their extraordinary powers. And attorney Kim Fraser has to go right into the heart of their lair. It's her job to defend those in need. But there's absolutely nothing defenseless about Liam Morrissey. His soft Irish lilt and feline grace can't disguise his sheer strength. Nor can the silver chain at his throat, designed to control the aggression of his kind, completely reassure her that this man has been tamed. Yet when a feral shifter begins to stalk them both, Liam is the only one she trusts with her life. She'll let him claim her—for her protection, for her pride, and for a passion that knows no bounds.
©2004 Jennifer Ashley (P)2010 Audio Realms, Inc.

Off The Edge Audiobook
Off The Edge Audiobook
Overall: 3 Hearts
I love the stories in this series, which I've listened to out of order. I listened book three last year and enjoyed it. This series consists of a guy who is deep undercover. It is hard to tell if he is a good guy or a bad one. I think the truth lies somewhere in the middle. The heroine for Off the Edge, Laney, is on the run and hiding for a very dangerous man. She is a little naive, but not too bad. There are a few things I don't like about this series. There are phrases that are repeated too frequently. Also, each character goes by so many different names, actual first name, actual last name, undercover first name, undercover last name and nicknames. It was a little hard to keep up who we are talking about. Neither of these prevented me from enjoying the story overall
Rating: 3 Hearts
 Narration
Narration by Romy Nordlinger while not my favorite, wasn't bad. I think it was mostly the non-dialogue that I didn't like. When she was voicing the characters, I didn't mind the voices used.
Rating: 3 Hearts
Off The Edge Audiobook
By: Carolyn Crane

Narrated by: Romy Nordlinger

Published by: Tantor Audio 11/11/2014

Duration: 9 hrs and 59 min

Sensuality: HOT
Genre: Romantic Suspense

Series: Undercover Associates #2

Summary
For deadly secret agent Peter Macmillan, language is a weapon – one he uses to hunt criminals, destroy plots, and charm enemies. Seducing information out of a beautiful singer in a Bangkok hotel should be easy… except this particular singer has the power to destroy his cool façade, and with it, his last defense against a dark past. He tricked her. He helped himself to her body and her secrets. He has enemies everywhere. Laney Lancaster should hate Peter, but when she discovers him shirtless, sweaty, and chained up in the hotel's dungeon, all she can think about is freeing him. Because she knows what it's like to be trapped and alone. And she could use a dangerous friend. They might be wrong for each other, but to survive they must trust each other with their lives-and their hearts.
Contains mature themes.
©2013 Carolyn Crane (P)2014 Tantor

The Dangers of Dating a Rebound Vampire Audiobook
The Dangers of Dating a Rebound Vampire Audiobook
Overall: 4 Hearts

I love my trips to Half-Moon Hollow. While I'm still behind on Jane Jameson series, which is set in the same town with the tons of character overlap, I've stayed up-to-date on this series and the Naked Werewolf series. This book focuses on Gigi, Iris's little sister from the first book in this series. I loved Gigi. She is quite the computer geek, which speaks to the geek in me. Our hero is a vamp that works for the council. He has some pretty cool powers that the council finds handy, he can see who has handled objects.
The pop culture references are always a big hit in Half-Moon Hollow series, or any Molly Harper series for that matter. I love the characters who are all a lot of fun.
Overall: 4 Hearts
 Narration
I love Amanda Ronconi's narration of all of Molly Harper's books. She has a great way of bringing out the snark in some great characters. She also does well with some different accents and the male and female voices. I've listened to her do this and the Naked Werewolf series. I still need to get back to Jane Jameson series, which is on my TBL list for this year.
Rating: 4.5 Hearts
The Dangers of dating a Rebound Vampire Audiobook
By: Molly Harper

Narrated by: Amanda Ronconi

Published by: Audible Studios 03/24/2015

Duration: 9 hrs and 13 mins

Sensuality: HOT
Genre: PNR

Series: Half Moon Hollow #3

Summary
In the next book in Molly Harper's beloved Half Moon Hollow paranormal romance series, Gigi starts her first job (at Vampire Headquarters), gets over her first love, and may even fall for her first vampire!
Gigi is no longer an innocent teen. All grown up and looking for love, her family and friends worry she'll go for the sexy, alluring vampire instead of a nice, safe human. But sexy and alluring, with a penchant for biting, could be just what Gigi wants…
©2015 Molly Harper White (P)2014 Audible Inc.

The Master Audiobook
The Master Audiobook
Overall: 4 Hearts

I was very excited to get back to the Russians after listening to The Professional last year. I was not disappointed. Maksimilian, Mak, is our Russian billionaire who hires an escort and surprised when a Cuban woman shows up at his hotel. That is not what he ordered.
Catarina, Cat, is Cuban woman who has been cleaning houses while on the run from her husband. Her friend is the escort that was supposed to visit Mak, but had a bad run with Botox.
The sex in this one was a little lighter than the first book. I felt that emotions in this one ran higher. It does have a bit of the Pretty Woman feel to it.
Overall: 4 Hearts
 Narration
I thought that Kimberly Alexis did another bang up job with this book. I really enjoy her Russian accent. She is great with the passionate love scenes, be it emotional or sexy. Her only downfall, in my opinion, was her Cuban accent. I don't know any Cuban to hear an actual accent, but it didn't sound right to me when I compare to what I've seen on TV.
Rating: 4.5 Hearts
The Master Audiobook
By: Kresley Cole

Narrated by: Kimberly Alexis

Published by: Simon & Schuster Audio 02/17/2015

Duration: 11 hrs and 14 Mins

Sensuality: Burning
Genre: Contemporary Erotica

Series: The Game Maker #2

Summary
A need colder than Siberian winter meets an attitude hotter than the Florida sun in number-one New York Times best-selling author Kresley Cole's sultry new Game Maker novel.
Everyone fears the master…
Rich, irresistible politician/Mafiya boss Maksimilian Sevastyan prefers tall, obedient blondes to fulfill his…complicated desires. That is until the icy Russian encounters a disobedient brunette whose exquisite little body threatens his legendary restraint.
Except her.
Catarina Marín was a well-off young wife until her world fell apart. Now she's hiding out, forced to start working as an escort in Miami. Her very first client is beyond gorgeous, but when he tells her what he plans to do to her, Cat almost walks out of the door.
If pleasure is a game, play to win.
After their mind-blowing encounter burns out of control, the lovers crave more. If they escape the deadly threats surrounding them, can Maksim overcome his past–to offer Cat his future? Only then will she tempt him with what he really wants: her, all tied up with a bow.
©2015 Kresley Cole (P)2015 Simon and Schuster