The Confessions Audiobook

By:
Tiffany Reisz
Narrated by:

 Matthew Lloyd Davies
Published by: Blunder Woman Productions 08/07/17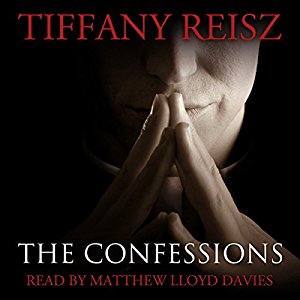 The Confessions Audiobook Sample
The Confessions Audiobook

4.5 Hearts
This is a collection of short stories set in the Original Sinners series. Well, it is two short stories and an author interview. This is a MUST read for any fan of the series, but probably wouldn't be much interest for people who haven't read at least one of The Original Sinner books (Red or White years wouldn't matter). It has confessions of the series two most notorious Catholics, Søren (aka Marcus Sterns) and Nora Sutherland (aka Eleanor Schreiber). This is a quick listen at 2 hours 49 minutes, but so worth the time.
Father Stuart Ballard has been Marcus' confessor for many, many years. He is well aware of Marcus' extracurricular activities. There is nothing that he hasn't heard from Marcus in the past. This confession might be the toughest yet. This story takes place not long after he meets his Eleanor, when she was just fourteen years old. You can really hear the difficulty Marcus is having with Eleanor. I love how Father Ballard didn't judge, but listened and offered heartfelt advice to Marcus.
Nora's confession (also to Father Ballard) takes place many years later (I can't remember exact Nora's age, probably mid-thirties). Søren is her normal confessor, but she has something she needs to talk about that involves him, so she sought out his confessor. Nora was her typical self. She doesn't care what people think and says exactly what is on her mind. She has no problem admitting that she has several lovers. She has no regrets. I love back and forth between these two as they try to find a sin that Nora can confess to. He also helps her come to terms with her issue with Søren.
There is also a great interview with Tiffany Reisz. They talk about the characters in the Original Sinners. It is great insight into these characters that might not make it onto the page. She talks about when her editor has had to pull her back. Tiffany really likes to push the envelope with her writing. I love the way she does it. She writes these scenes so well, that I think she really makes you think about these things. It isn't just for the shock value. I met Tiffany Reisz at RT15 in Dallas. She is a sweety. I highly recommend you look her up if you ever go to a con that she's attending.
The Confessions Audiobook Narration
4 Hearts
This is my first book with Matthew Lloyd Davies narration. I have to say that I really liked him. I thought he did a really great job with Nora. He really got her attitude down perfect. I also really liked his voice for Father Ballard. I wasn't as big of fan of Søren's voice. He is this big, bad sadist who can scare people with just a look. His voice didn't quite fit for me. But overall, I really enjoyed his narration of this book.
Tiffany Reisz is the author of the internationally bestselling and award-winning Original Sinners series for Mira Books (Harlequin/Mills & Boon). Tiffany's books inhabit a sexy shadowy world where romance, erotica and literature meet and do immoral and possibly illegal things to each other. She describes her genre as "literary friction," a term she stole from her main character, who gets in trouble almost as often as the author herself. She lives in Lexington, Kentucky with her husband, author Andrew Shaffer, and two cats. If she couldn't write, she would die.
Narrator:Matthew Lloyd Davies
Matthew Lloyd Davies is a veteran actor, audiobook narrator, and director. Highlights of his career include regular appearances with the Royal Shakespeare Company, Royal National Theatre, in the West End, on international tours, and in award-winning television shows and films.
With experience in radio, a master's degree in directing, and extensive experience in presenting at corporate events, Matthew has honed his ability to tell a story. It is that ability which he brings to each and every audiobook he narrates and produces.
Reviewed by: