The Curse of Tenth Grave Grave Audiobook
by:
Darynda Jones
Narrated by:
Lorelei King
Published by Macmillan Audio 06/28/2016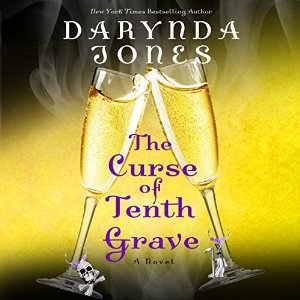 10 hrs and 40 mins
The Curse of Tenth Grave Audiobook Sample
The Curse of Tenth Grave Audiobook
4 stars
After we spent all of The Dirt on the Ninth Grave in Sleepy Hollow, in The Curse of the Tenth Grave, we are back in Albuquerque. Charley has her memory back and has learned a lot of new things that she didn't know before she got amnesia. Some of these things weigh heavily on her shoulders, but as per usual Charley, she doesn't let them get her down.
The case in this book is brought to Charley by a prosecutor who knows someone who is arrested for murder. The case against him is solid as solid could be. However, he didn't do it. Oh, and there is no body, just a car with lots and lots of the victims blood. Charley has been brought in because she is the only one who can solve this case. It takes her a while, but she does figure it out as always and it was a surprise to find out what happened.
Also, there is a young girl who hangs out not far from the restaurant and Charley's office. She is a homeless runaway and Charley sees that she is taking food from a guy down the street, who isn't known for being a nice guy. When Charley starts to talk to her, she learns that the girl ran away from a foster house where many kids have died over the years. She is convinced that the house is cursed and that she is next. Charley decides she needs to take up this case as well.
On top of all of that, Reyes has pulled away from Charley and they are having some communication issues. Charley even moves in with Cookie and UB for a little bit. Add in the loss of Beep and this makes things a little stressful for our grim reaper. Oh, should I mention that we learn a lot more about Rocket and his names?
I don't want to say anymore. There are several things that could be spoilers to some people. Overall, I really enjoyed this story. I continue to love the humor in this series. I love watching the cases that Charley and Cookie work on and see them solve in amazing ways. I love that Cookie does some amazing investigative work, even though she has no super power. I am a little frustrated that Charley and Reyes continue to have these communication issues. They spelled out a lot of their secrets in this story. I hope they don't start to build up again.
If you're looking for a fun paranormal series with a TON of humor, some great sleuthing, a super hot hero and a heroine that doesn't always need a hero to come to her rescue, but is great at getting herself into trouble, Charley Davidson is a great series for you. If you haven't tried it, I highly recommend it.
"Let me get this straight. You have no intention of telling me what's wrong. You don't want to talk about whatever is wrong. And you're going to let me continue to believe I've done something horrible before you'll open up. Even if, say, I restrain you? Force it out of you?"
"The only thing you are going to force out of me under the confinement of restraints is an orgasm."
Finally! "So, you'd be open to my restraining you for my own sexual pleasure?"
"Wide open."
"And, it would be something you'd enjoy?"
"Who wouldn't?"
The Curse of Tenth Grave Narration
5 stars
This is a series that I started out on audio. I knew that I liked Lorelei King from listening to the Mercy Thompson series. So when I saw that my library had First Grave on the Right, I gave it a try several years ago. I'm so glad that I did. I've only ever listened to this series and I will continue to do so as long as Lorelei King continues to narrate it. She does an amazing job of bringing out the humor of the series. I love her voices for all the different characters, both men and women. She is able to make me laugh and cry with the characters. If you've never given Ms. King a try, I can't recommend her narration enough.
NYTimes and USA Today Bestselling Author Darynda Jones has won numerous awards for her work, including a prestigious RITA, a Golden Heart, and a Daphne du Maurier. As a born storyteller, Darynda grew up spinning tales of dashing damsels and heroes in distress for any unfortunate soul who happened by, annoying man and beast alike, and she is ever so grateful for the opportunity to carry on that tradition. She currently has two series with St. Martin's Press: The Charley Davidson Series and the Darklight Trilogy. She lives in the Land of Enchantment, also known as New Mexico, with her husband of almost 30 years and two beautiful sons, the Mighty, Mighty Jones Boys. She can be found at www.daryndajones.com.
Once described as 'the best known American voice on radio 4,' Lorelei King has recorded more than 200 programs for the BBC, including the Marx Brothers tribute, 'Flywheel, Shyster and Flywheel,' super-hero 'audio movies' including 'Superman,' 'Batman' and 'Judge Dredd and classic American drama such as 'East of Eden,' 'Ethan Frome' and 'A Thousand Acres.' She appears regularly as a panellist on shows such as 'Where in the World' and 'Wordly Wise' and has hosted her own talk show, 'All About Eve.'
Lorelei is a multi- award-winning narrator of audiobooks, recording the works of best-selling authors Janet Evanovich, Sue Grafton and Patricia Cornwell among others.
Her work in animation is extensive, and in America she provides the voices for 'Wendy' and 'Packer' (among others) in Bob the Builder.
Born in Pennsylvania and raised in Los Angeles, Lorelei now makes her home in London, where she lives with her husband, actor Vincent Marzello.