The Dirt on Ninth Grave Audiobook
by:
Darynda Jones
Narrated by:
Lorelei King
Published by Macmillan Audio 1/12/2016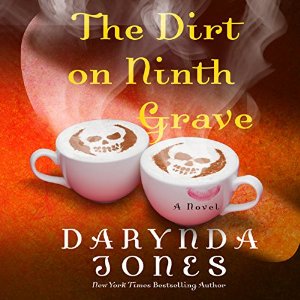 10 hrs and 11 mins
The Dirt on Ninth Grave Audiobook Sample
The Dirt on Ninth Grave Audiobook
4.5 stars
In this story we have Charley waking up with retrograde amnesia. She doesn't know who she is or anything about her past. It has been about a month and she is working in a diner in Sleepy Hollow, New York. All of her friends and family have joined her, but they haven't told her they know who she is. Charley's sister Gemma warned that it would be too hard on her to force the memories back on her. Charley needed to come back to herself in own time.
It was fun to see that Charley was "Charley" no matter what. It did take her a bit to figure out her powers. She wasn't sure about the fact that she really could see dead people. She was also very scared to tell anyone about it, scared she would end up in a straight jacket, who wouldn't?? Watching her learn how she stopped time and how to deal with it was kinda fun. I'm sure I would be the same way. In awe and terrified at the same time.
She also got the chance to fall in love with Reyes all over again. Who wouldn't want that chance? She got to go through those wonderful times of early love all over again. It wasn't all hearts and flowers at first. She did see the darkest in Reyes and it scared her. She also saw the anger in him, which is also scary.
Watching all of the secondary characters that we know and love tiptoe around Charley trying not to reveal who they are to her, all while Charley can sense their emotions was hilarious. Not to mention, she can tell when someone is outright lying. Garrett, Osh, Cookie, UB (or Bobert as Charley calls him while she doesn't know him), Swoops are all there.  Angel even made the trip to keep an eye on Charley.
One thing I also enjoyed was the secondary characters we got to meet in this story. The fact that this took place in New York instead of New Mexico, means that we had to have a whole new cast of characters. There is Dixie the diner owner. There are the other diner workers in Lewis, Erin and Shayla.
Charley also works on two different cases that proves that she is a PI at heart. One that is police related and one that is departed related. She just can't help but to help people who are in trouble. She also has a departed that she must help as well.  We also learn that animals can be departed too.
This is a classic Charley Davidson story. It will make you laugh and cry. Even though this story Charley spent most of the story as Janey Doerr, it was still a fun story.
The Dirt on Ninth Grave Narration
5 stars
Lorelei King once again nails the narration of this series. She had to do some Russian accents in this one. She continues to pull of the snark that is characteristic of a Charley Davidson book. Add to that, she is also great with the parts that are also not snarky. She brings to the table whatever is needed for that scene and does it flawlessly. This is will always be a straight to audio series for me. If you haven't tried it on audio yet, you don't know what you're missing.
NYTimes and USA Today Bestselling Author Darynda Jones has won numerous awards for her work, including a prestigious RITA, a Golden Heart, and a Daphne du Maurier. As a born storyteller, Darynda grew up spinning tales of dashing damsels and heroes in distress for any unfortunate soul who happened by, annoying man and beast alike, and she is ever so grateful for the opportunity to carry on that tradition. She currently has two series with St. Martin's Press: The Charley Davidson Series and the Darklight Trilogy. She lives in the Land of Enchantment, also known as New Mexico, with her husband of almost 30 years and two beautiful sons, the Mighty, Mighty Jones Boys. She can be found at www.daryndajones.com.
Once described as 'the best known American voice on radio 4,' Lorelei King has recorded more than 200 programs for the BBC, including the Marx Brothers tribute, 'Flywheel, Shyster and Flywheel,' super-hero 'audio movies' including 'Superman,' 'Batman' and 'Judge Dredd and classic American drama such as 'East of Eden,' 'Ethan Frome' and 'A Thousand Acres.' She appears regularly as a panellist on shows such as 'Where in the World' and 'Wordly Wise' and has hosted her own talk show, 'All About Eve.'
Lorelei is a multi- award-winning narrator of audiobooks, recording the works of best-selling authors Janet Evanovich, Sue Grafton and Patricia Cornwell among others.
Her work in animation is extensive, and in America she provides the voices for 'Wendy' and 'Packer' (among others) in Bob the Builder.
Born in Pennsylvania and raised in Los Angeles, Lorelei now makes her home in London, where she lives with her husband, actor Vincent Marzello.
I'd like to thank MACMILLAN AUDIO for providing me with a copy of this audiobook in exchange for an honest review.