The Drafter Audiobook

By: 

Kim Harrison
Narrated by:

January LaVoy
Published by: Simon & Schuster Audio 09/01/2015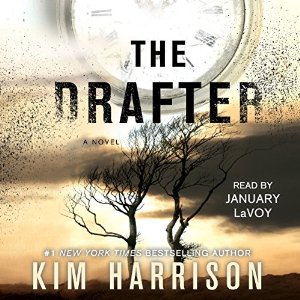 15 hrs and 45 mins

The Drafter Audiobook Sample
The Drafter Audiobook

3.5 Hearts
I wasn't sure what to expect going into The Drafter. I did listen to the prequel novella Sideswiped, but to be honest, I didn't remember a lot of what happened. I do think that having listened/read the novella did make it easier to pick up this book. Several of the characters are introduced and you start to get a feel for the world that Harrison has built. It takes place several years before the start of The Drafter. Looking back, I wish I hadn't left such a big gap between listening to Sideswiped and The Drafter.
This book was a completely different story and world from Harrison has given us in the past. It is nothing like The Hollows. Here, she has a built a futuristic world with more gadgets that you might expect to find in a world of the future. Plus, there is a bit of a time travel like element.
Peri Reed is a Drafter. She has the ability to go back a few minutes and rewrite the history. She is limited in how much she able to go back. She also doesn't remember what happens. She requires the use of another person called an Anchor to help her see the final timeline. A Drafter and their Anchor are a team. They always work missions together and they generally live together and have a sexual relationship. Peri has even lost memories in her life from before the draft. One time she lost the previous six weeks of memories. It is interesting that Harrison gave such strong consequences for even these small shifts in time and rewrites in history.
There are many side characters from two different agencies. Peri currently works for a government agency called Opti. There is also another agency called the Alliance who is working to take down Opti. They want Peri and the information she could provide them, if she could only remember it. Jack is her Anchor and lover. He is also an Opti agent. Silas works for the Alliance. He can be an Anchor, but is more of a scientist than anything. There is also Bill, who is Jack and Peri's handler. Fran, who is in charge of The Alliance. Howard and Taft are two great side characters who I just loved. They are friends of the Alliance and more like freelancers for them than true employees. They were there for Peri when she needed them. They were my favorite characters in the whole book. I hope we get to see more of them going forward.
This is a very interesting story. I liked it. The story kept me guessing on who's the bad guy and who's the good guys. At times, I felt I was almost as confused as Peri with her missing memory. I do love the world and the characters in it. I love Harrison's writing style. I'm very excited to get the next book. I just hope I don't have to wait too long.
The Drafter Audiobook Narration
4 Hearts
This is the first book (not counting the Sideswiped novella) that I've listened to narrated by January LaVoy. I think she did a great job. I loved how she pulled out the cocky voice in Jack. Taft had a Southern accent that came and went and she did a great job with that as well. I liked her male and female voices. I would love to find more books with her as the narrator.
Kim Harrison, dark urban fantasy author of the New York Times #1 best selling The Undead Pool, was born in Detroit and lived most her her life within an easy drive. After gaining her bachelors in the sciences, she moved to South Carolina, where she remained until recently returning to Michigan because she missed the snow. She's currently developing what comes after the Hollows between working on the last Hollows book. When not at her desk, Kim is most likely to be found landscaping her new/old Victorian home, in the garden, or out on the links.
 Narrator: January LaVoy 
Named Publishers Weekly's AUDIOBOOK NARRATOR OF THE YEAR for 2013, January has an extensive body of work in both audiobook narration and commercial voiceover.  Her voice has been heard in national campaigns for products such as Revlon, Toll House, United Health Care, Dannon, Asthma.com, Home Depot, and Obama for America. She is a five-time Audie Award nominee, and received a 2014 Audie Award for her work on Nicholas Sparks' novel, The Longest Ride.
Reviewed by: