Warm

8 hrs and 20 mins
The Dragon Conspiracy Audiobook Sample
The Dragon Conspiracy Audiobook

4 Hearts
I found Lisa Shearin and the SPI Files series in the Night Shift Anthology that I reviewed late last year. I instantly fell in love with Mackenna Frazier and the team at SPI. I found that I really enjoyed the world of supernaturals in New York City. Mak is a great character who continues to prove that she is one of the great heroines of the urban fantasy worlds, even if she still has a lot to learn.
In The Dragon Conspiracy, we are in New York a few months after the end of the previous book. Mak and her partner, Ian, are stalking out the Met as they keep an eye on some very power and cursed gemstones called Dragon Eggs. Each of these Eggs are very powerful on their own, put them in a collection, like we have here, and the power is almost limitless. Their job is to make sure no one steals these dangerous items. Of course, they are stolen anyway. We also get to meet a new type of supernatural in this book, Gorgons.
The mystery about who steals the eggs is great. There are tons of twists and turns. Plus, we continue to learn more about the eggs as the story progresses. I enjoyed watching Mak and Ian progress through the case and continue to become even better partners. As per the previous stories in this series, it is filled with a lot of humor. The characters are very well developed and continue to get more so with each book.
This is a series that I really feel you should read/listen to in order. I found that starting with the prequel in the Night Shift Anthology really helped me to get some background on Mak and SPI as an organization. That's not to say you would be completely lost if you didn't read them, but there is some backstory on the characters that you would miss, plus I think they are all great books and worth the read anyway. I'm very excited to get to the next book in this series.
Narration
4 Hearts
Once again, I think Johanna Parker has done a great job with series. She is one of my favorite narrators for a series with humor. She has a great ability to make a funny story even funnier in her telling of it. I like her use of different voices. I'm always able to tell who is speaking. She does a great job with all the voices, include the males.
Lisa is the New York Times and USA Today Bestselling Author of The Raine Benares novels, a series of six comedic fantasy adventures. Her second series—The SPI Files—is an urban fantasy that's been described as Stephanie Plum meets Men in Black. The first book, The Grendel Affair, is available now. The second, The Dragon Conspiracy, will hit shelves and eReaders on January 27, 2015.
Lisa is a voracious collector of fountain pens both vintage and modern. She lives on a farm in North Carolina with her husband, three spoiled-rotten retired racing greyhounds, and enough deer and woodland creatures to fill a Disney movie.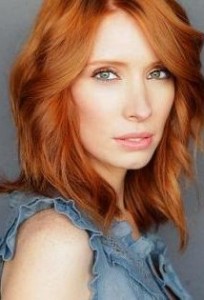 Johanna Parker is an Audie Award Winning, Earphone Award Winning actress living and working in San Francisco. Since narrating her first audiobook for Recorded Books in 2002, Johanna has received high praise for her work in all genres, including the young adult Mediator series by Meg Cabot, Earlene Fowler's Bennie Harper Mysteries, and her portrayal of Sookie Stackhouse in Charlaine Harris's Southern Vampire books of which Audiofile has said, "Parker personifies Harris's perky Southern heroine, Sookie Stackhouse. Her splendid pacing allows listeners time to absorb the action and emotions…listeners will be enthralled."
I like to thanks Audible Studios for providing me with a copy of this audiobook in exchange for an honest review.
Reviewed by: