The Ghoul Vendetta Audiobook

By: 

Lisa Shearin
Narrated by: 

Johanna Parker
Published by: Audible Studios 09/19/2017

8 hrs and 49 mins

The Ghoul Vendetta Audiobook Sample
The Ghoul Vendetta Audiobook

4 Hearts
I was so excited to be back in the world of SPI and Makenna Fraizer. I've loved this series since I listened to the prequel story, Lucky Charms in the Night Shift Anthology. This series has been full of action, humor and really fun characters. Add in Johanna Parker's narration and I'm in love.
Mac is a seer, she can see through glamours, which is how she got her job at SPI. SPI works around the world to keep the supernatural world unknown to humans. That includes policing supernaturals and covering up things that would out the supernatural world. It is staffed by humans, werewolves, shifters, dragons, dryads, nomes, you name it.
Most folks would say that history and mythology couldn't be more different, but when you worked at SPI, you knew they were the same thing.
Her partner is a a former NYPD detective, Ian Byrne. They also have their driver, six foot eight Russian werewolf Yasha Kazakov, who is very protective of his partners and his suburban. The last character I'm going to mention is Rake Danescu. He's a black mage and a goblin. He's not often on the right side of the law, but he is a good "man". He has also been dating Mac, much to Ian's dislike (not because he has a love interest in her, he has a dryad lover. He is just protective of his partner and like I said, Rake not usually on the right side of the law).
So in this story, we have a vampire that is kidnapped and right in front of Mac and Rake, no less.. There is also a large theft from a bank that caters to supernaturals. Mac believes that the crimes are related. The vampires who safety deposit boxes were stolen aren't wanting to cooperate. There are also weird sea creatures involved. Mac refers to "Creatures from the black lagoon", "squid man" and the Kraken. There are also ghouls. Ian is in the real mix, as the ghoul that killed his NYPD partner is leaving clues for him.
If you're looking for a funny urban fantasy/cop action story, this is a great series for you. Mac is a strong heroine. She is a human surrounded by supernatural individuals. While she is willing to take risks, she does realize that she isn't as durable as the vampires, werewolves and others at SPI. But she is loyal and won't be left behind if there is something she can do to help (there is a great scene with her boss and her where she makes this exact argument in this book). This is also a series where I could include a ton of snippets from the book, but I did try to limit myself.
"So you passed out," I said for what felt like the umpteenth time. I was careful not to use the "f" word. For some reason, men had a problem being told they'd fainted. Passed out was better. Knocked out was best. It meant you'd probably been engaged in a manly activity like fighting or football when you'd gotten your bell rung.
A few minutes later, Rake made his way over to us, looking neither left nor right, not rushing but not dragging his feet, either. The press had spotted him and were shouting to get his attention. My date was a center of near-Zen calm as he pretended that none of them existed, especially Baxter Clayton. All I can say is that it was a good thing there was a police-guarded barricade or Rake would have been mobbed, and that would not have ended well. Goblins were rather like cats: neat, fastidious, mostly aloof, with an intense dislike of being dunked in water. If you did anything to them that they considered to be degrading or annoying, you'd better prepare to be shredded.
Rake Danescu was wet, his tuxedo was likely ruined, and though his expression was carefully blank, I knew that inside he made Grumpy Cat look like a cheerleader. But when he got close enough to us, he did at least acknowledge Ian.
The Ghoul Vendetta Narration
5 Hearts
Johanna Parker does a great job with the narration of this series. I love all the voices she's chosen for each character. There is a large mix of accents. Mostly, I love how she really brings out the humor in the story. I'm not sure if I can say exactly what she does that brings out that humor, she just does it. I think she does well with the male and female voices and the wide array of characters. Her pace and tone are perfect too. Johanna Parker is one of my favorite narrators. I think she is especially great in a series that has a lot of humor (like Shelly Laurenston series).
Lisa is the New York Times and USA Today Bestselling Author of The Raine Benares novels, a series of six comedic fantasy adventures. Her second series—The SPI Files—is an urban fantasy that's been described as Stephanie Plum meets Men in Black. The first book, The Grendel Affair, is available now. The second, The Dragon Conspiracy, will hit shelves and eReaders on January 27, 2015.
Lisa is a voracious collector of fountain pens both vintage and modern. She lives on a farm in North Carolina with her husband, three spoiled-rotten retired racing greyhounds, and enough deer and woodland creatures to fill a Disney movie.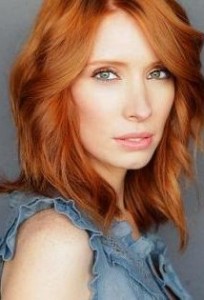 Johanna Parker is an Audie Award Winning, Earphone Award Winning actress living and working in San Francisco. Since narrating her first audiobook for Recorded Books in 2002, Johanna has received high praise for her work in all genres, including the young adult Mediator series by Meg Cabot, Earlene Fowler's Bennie Harper Mysteries, and her portrayal of Sookie Stackhouse in Charlaine Harris's Southern Vampire books of which Audiofile has said, "Parker personifies Harris's perky Southern heroine, Sookie Stackhouse. Her splendid pacing allows listeners time to absorb the action and emotions…listeners will be enthralled."
I like to thank
Audible Studios
 for providing me with a copy of this audiobook in exchange for an honest review.
Reviewed by: