The Gone Dead Audiobook

By:
Chanelle Benz
Narrated by: 

Bahni Turpin
Published by: Harper Audio 6/29/19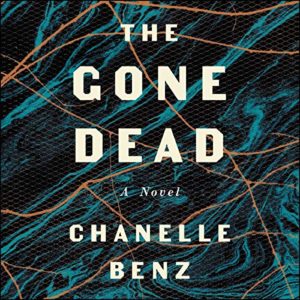 8 hrs 6 mins
The Gone Dead Audiobook Sample
The Gone Dead Audiobook

4.5 Hearts
Chanelle Benz is a new-to-me author, but when I saw that Bahni Turpin was the narrator, I decided to look further into the story. I liked the sound of the book blurb, so I decided to give this book a go. I'm really glad that I did. I had a great time reading this story and trying to figure out what was going on this small town on the Mississippi Delta.
Billie James is a half white, half black girl who is originally from a small town of Greendale, Mississippi. She moves to Philadelphia with her mother (the parents were split up prior to his death) when she was just a toddler after her father dies in an apparent accident. Now she's going back to Greendale to cleanup her father's house that she has inherited thirty years after his death.
After some strange occurrences around the house, she starts asking about things more. She's talking a lot with the closest neighbors, a white family that has had connections with her family, going back to slave times. She's also talking with her father's brother and her father's girlfriend at the time of his death. The more she digs, the more questions she has.
I really enjoyed this crime mystery set in the South, where there is a lot of history. Even in the present, you can see the differences between the different races, but this really isn't a story about race. Race is brought up as it is part of the culture in the town and does have its place in this story. But this is mostly about Billie trying to learn more about her father and what happened to him and even what happened to her around the time of his death.
If you like crime stories set in small towns where everyone is connected in some fashion, this would be a great story for you to try. I really look forward to reading more books by Chanelle Benz.
The Gone Dead Audiobook Narration
5 Hearts
As I said, Bahni Turpin is the reason this book really caught my eye. I've listened to her narrate several different types of stories and I always enjoy her narration. I really believe that she brings out the characters in the stories, with a wide array of voices and the perfect inflection in their tones to match their personalities. If you've never listened to Bahni Turpin, you're really missing out and should give her a try.
Author: Chanelle Benz
Chanelle Benz has published short stories in Guernica, Granta.com, Electric Literature, The American Reader, Fence and The Cupboard, and is the recipient of an O. Henry Prize. Her story collection The Man Who Shot Out My Eye Is Dead was published in 2017 by Ecco Press. It was named a Best Book of 2017 by The San Francisco Chronicle and one of Electric Literature's 15 Best Short Story Collections of 2017. It was also longlisted for the 2018 PEN/Robert Bingham Prize for Debut Fiction and the 2017 Story Prize. It won the 2018 Sergio Troncoso Award for Best First Fiction and the Philosophical Society of Texas 2018 Book Award for fiction. Her novel The Gone Dead was published by Ecco Press in June 2019. She currently lives in Memphis where she teaches at Rhodes College.
Narrator: Bahni Turpin
Bahni Turpin is an American stage and screen actor known for her roles in Malcolm X and Coldcase Files and an award-winning audiobook narrator. Her audiobooks appear regularly on Amazon's monthly top ten list. Her audiobook career includes some of the most popular and critically acclaimed books in recent years including The Help, The Hate U Give and Children of Blood and Bone. She has narrated over 70 titles.
Reviewed by: