The Myth Manifestation Audiobook

By: 

Lisa Shearin
Narrated by: 

Johanna Parker
Published by: Audible Studios 02/13/2018

7 hrs and 54 mins

The Myth Manifestation Audiobook Sample
The Myth Manifestation Audiobook

4 Hearts
I was glad to be back in Makenna's weird world. This series has been a lot of fun from the beginning. Mac is a seer. She can see things that others can't and can see through glamours. She is invaluable to SPI (Supernatural Protection & Investigations). She isn't a fully trained agent, but is partnered with one of the best, Ian.
In this story, the team is working a U.N. like meeting where all the different species from our plane and others come together and negotiate the different treaties and such. Vivienne Sagadraco, leader of SPI and dragon, is the one in charge of all of this. She wanted her best teams running security for this shindig. Oh, and it's being held at Rake Danscu's hotel. Rake is Mac's goblin boyfriend, though things haven't gone very far at this point.
When a portal mage is found dead, Mac, Ian and the team have to figure out what happened. Oh, and someone has locked down the hotel. No one can seem to get in or out. I guess if you're going to be locked somewhere for a long time, there could be worse places than fancy hotel. Well, unless that hotel has dangerous creatures popping in trying to kill people.
This was another fun and high action story. There is plenty of humor mixed in with the action. What really makes this series for me are the characters. I just love Mac, Ian, Rake, Kenji (tech geek and half elf), Yasha (werewolf and Ian and Mac's driver), Kitty (portal mage and baker) and Vivienne Sagadraco. This is a great group of characters. If you like urban fantasy, I highly recommend this series.
The Myth Manifestation Narration
5 Hearts
I'm a huge fan of Johanna Parker. I think she has a great ability to bring out the humor in a story. She does a great job with different accents and male and female voices. This series has a large cast, and she does a great job.
Lisa is the New York Times and USA Today Bestselling Author of The Raine Benares novels, a series of six comedic fantasy adventures. Her second series—The SPI Files—is an urban fantasy that's been described as Stephanie Plum meets Men in Black. The first book, The Grendel Affair, is available now. The second, The Dragon Conspiracy, will hit shelves and eReaders on January 27, 2015.
Lisa is a voracious collector of fountain pens both vintage and modern. She lives on a farm in North Carolina with her husband, three spoiled-rotten retired racing greyhounds, and enough deer and woodland creatures to fill a Disney movie.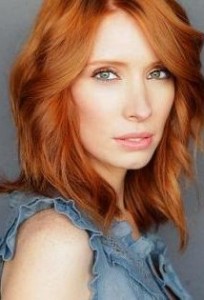 Johanna Parker is an Audie Award Winning, Earphone Award Winning actress living and working in San Francisco. Since narrating her first audiobook for Recorded Books in 2002, Johanna has received high praise for her work in all genres, including the young adult Mediator series by Meg Cabot, Earlene Fowler's Bennie Harper Mysteries, and her portrayal of Sookie Stackhouse in Charlaine Harris's Southern Vampire books of which Audiofile has said, "Parker personifies Harris's perky Southern heroine, Sookie Stackhouse. Her splendid pacing allows listeners time to absorb the action and emotions…listeners will be enthralled."
I like to thank
Audible Studios
 for providing me with a copy of this audiobook in exchange for an honest review.
Reviewed by: