Unlit Audiobook

By: 

Keri Arthur
Narrated by: 

Justine Eyre
Published by: Tantor 12/04/2018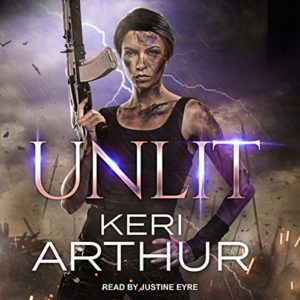 11 hrs and 58 mins
Unlit Audiobook

4 Hearts
Keri Arthur is an author that has been on my radar for years. I have no idea why I never tried her, but when I saw a book one of a series available for review, I grabbed it. I"m so glad that I did. This is a very interesting world that she's built.
Neve is Unlit. She has stained skin and no magic. In this world, she is taken from her parents and raised to be a soldier in the Nightwatch. They protect the citizens of the area from the Adlin that love to eat humans. There are also witches, people who can control either air or earth.
When Neve goes out into the desert to rescue a woman, she gets herself noticed a lot more than she would like. Especially, since she used her magic that she shouldn't have to help save herself and her charge from the Adlin.
This was an interesting start to the series. I can't wait to learn more about this series. It is a romance, so there is a different couple featured for the second book. I hope to learn more about this world.
Unlit Narration
5 Hearts
Justine Eyre is one of my favorite narrators (one of many). She does a great job with the narration of this series. I found myself really slipping into the world as she tells me the story. I love her choice of voices for both male and female voices. If you haven't tried Justine's narration, I highly recommend you give her a try.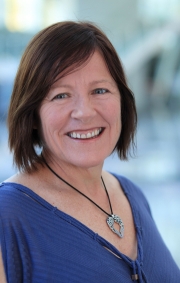 Author: Keri Arthur
I'm a born and bred Melbourne (Australia) gal, and grew up sharing my life with dragons, elves, vampires, werewolves, shapeshifters and the occasional talking horse. Which worried my family to no end. Of course, now that I'm actually making a living sharing my life with the above-mentioned creatures, they no longer contemplate calling the men with the little white coat. When not at my keyboard, I can be found at the gym, sitting in front of the TV, or off in the countryside somewhere taking random photos.
Justine Eyre is a classically trained actress who has narrated over two hundred audiobooks. With a prestigious Audie Award and four AudioFile Earphones Awards under her belt, Justine is multilingual and is known for her great facility with accents. She has appeared on stage in leading roles in King Lear and The Crucible, and has starring roles in four films on the indie circuit. Her recent television credits include Two and a Half Men and Mad Men.
I like to thank
Tantor Audio
 for providing me with a copy of this audiobook in exchange for an honest review.
Reviewed by: