Villains Deception Audiobook

By:
M. K. Gibson
Narrated by:

Jeffrey Kafer
Published by: Amber Cove Publishing 3/25/19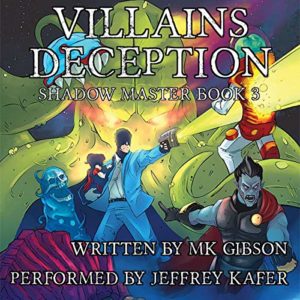 9 hrs and 6 mins
Villains Deception Audiobook Sample
Villains Deception Audiobook

5 Hearts
I'm so excited to be back in the world of Jackson Blackwell, The Shadow Master. Jackson is a villain, But not just any villain, he's a god of his domain. Jackson works as a consultant to other villains.
In this story, Jackson is on the hunt for whoever took his daughter. Don't mess with a villain's family because they will come for you. Jackson is no different. He will do anything and betray anyone to get his daughter back.
Jackson talks to the audience several times throughout the story. Usually insulting some or part of the audience, which makes me laugh. He, as in Jackson, is very aware that this is a story being told and talks about prologues, epilogues and plot devices.
Jackson gives a series recap towards the beginning of the story, so if you haven't read the first two books (which I would highly recommend), you won't be lost if you do decide to choose to read this one first.
I don't want to give too much away, but this is a fun series. There's a ton of snarkiness from the characters. Not only does is have superhero/villain tropes, but this also has some space opera tropes involved too. There are also vampires, djinn, demons and more in this story.
One thing I MUST point out is that Gibson does add additional stuff for the audiobook listener. I've never actually "read" one of his books, I've just listened. I really felt with this book (and the second book too, to be honest) were written specifically for audio. So, I had to ask. He responded with "I write the ebook/paperback first, then go back to make small edits (or small scenes) that only work for audiobook." And it works so well. So there are some great surprises for the audiobook listener. There's one scene that had me rolling on the floor with laughter.
Villains Deception Audiobook Narration
5 Hearts
Jeffrey Kafer knocked it out of the park with this story. He really brings the story to life. I can't imagine just reading this series. Kafer is the voice of The Shadow Master in my mind. I also can't imagine anyone else doing this series, especially with the audio only sections. He really brings a special little extra to this story. He also doesn't mind being the butt of jokes (if you listened to book two, Villains Pride, you know what I mean).
I guess I should actually mention his narration. Kafer is an awesome narrator. He's great with both men and women's voices. His pacing and tone for each scene is spot on. He really brings out the humor in this series. If you haven't listened to Jeffrey Kafer, then I highly recommend you check him out. Check out the beginning of the book with the sample above. Or even try the sample on Audible, which is recorded just for the sample and is hilarious. It is gives you a you a great feel of how the story feels.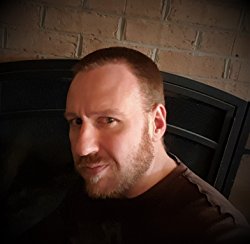 Hi, I'm Mike Gibson (Gib or Gibby to my friends). I'm a father, husband, writer and a retired US Air Force MSgt with 20 years of service. Back in 1980, when I was 5, I saw the animated version of The Hobbit and was a geek from then on. All I have ever wanted to do was to write and tell stories.
On one of my walls at home, I keep framed rejection letters. Every so often I look at them to keep myself writing and also to remind myself some people are idiots.
I live with my wife, son, 2 dogs and cat in Mt Airy, Maryland.
I love to read, play video games, exercise and watch movies. I'm a lover of all things geek and I'm a highly opinionated, socially/politically neutral person. I feel those who live and die by a brand, or party, are doomed to fail as human beings. I also mock those who refuse to let go of the Oxford comma.
In short, I'm an asshole. Yet, a lovable asshole. I hope.
I like to thank M. K. Gibson for providing me with a copy of this audiobook in exchange for an honest review.
Reviewed by: