Watcher in the Woods Audiobook
By: 
Kelley Armstrong
Narrated by:
Thérèse Plummer
Published by: Macmillan Audio 02/05/19

Casey Duncan/Rockton series #4
11 hrs and 15 mins mins

Watcher in the Woods Audiobook Sample
Watcher in the Woods Audiobook

4.5 Hearts
I love Rockton. It's a town in the Yukon that people can go (if they know about it or know someone who knows about it). Casey Duncan was a detective before she and her friend came to Rockton. She's still a detective in Rockton. She's also dating and living with the sheriff. She's also training a Newfoundland to a police dog.
So, there's always something going on in the small off the grid town of Rockton. A lot more than there should be for a small town, but then without a lot going on, we wouldn't be getting stories, would we?
Well, this time, someone has found Rockton. He acts like a cop, and claims he's a US Marshall looking for a fugitive that he knows is in Rockton. The question is who? There are a lot of reasons that people come to Rockton. Some are white collar criminals who were able to buy their way in. Some saw something they shouldn't have. Some are running from an abusive relationship. The sheriff is the only one who knows the real story, and sometimes he doesn't always know the whole truth. The council, the governing body who is also a pain in the ass and manages the funding for Rockton, doesn't always share everything (which is something we learned in previous books).
I love the characters who live in Rockton. Casey, Sheriff Dalton and their dog make a great team. I also love Mathias. He's a former criminal psychiatrist. He's got his own dog, a half wolf and half dog. I also love Isabelle, who was a psychologist in her former life. Now she runs the bars, brothel and makes the beer (and I think the liquor too, but I can't remember).
In this book, we also get to meet Casey's sister. She's a genesis neurosurgeon. And there's someone in Rockton who needs a neurosurgeon and Rockton doesn't even have a real medical doctor. So, Dalton and Duncan sneak her in without telling the council.
The mystery in this one (and the previous books too), was good. I love watching Casey work through police procedure with limited resources. There is also something going on with the council which has been going on since the beginning. I'm interested to learn more as the series progresses. We learn some interesting details in this book. If you like mysteries and police procedure stories, this is a fun series.
Watcher in the Woods Audiobook Narration
4.5 Hearts
Thérèse Plummer continues to do a great job with the narration. There is a large cast of diverse characters and she does a great job with all of their voices. I think she's also very good at the different types of inflection for the different characters and the different accents. If you haven't tried her narration, I highly recommend you give her a try.
Author: Kelley Armstrong
I've been telling stories since before I could write. My earliest written efforts were disastrous. If asked for a story about girls and dolls, mine would invariably feature undead girls and evil dolls, much to my teachers' dismay. All efforts to make me produce "normal" stories failed. Today, I continue to spin tales of ghosts and demons and werewolves, while safely locked away in my basement writing dungeon.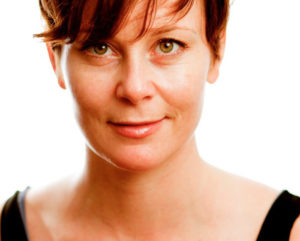 Narrator: Thérèse Plummer
Thérèse Plummer is an actor and award-winning audiobook narrator living and working in New York City. On television, she's had guest-starring roles on The Good Wife and Law & Order: SVU. In regional theater, she's played Sister James in Doubt. Thérèse has recorded over 200 audiobooks and been nominated for Audie Awards for her work on Robyn Carr's The Wanderer and Carson McCullers' The Ballad of the Sad Café, as well as for The Junkie Quatrain by Peter Clines. She received the Earphones Award for her work on Sing You Home by Jodi Picoult, for Faith by Jennifer Haigh, and most recently for We Are Water by Wally Lamb. She is the voice of Maya Hansen in the Marvel graphic motion comic Iron Man Extremis, of Dr. Fennel in Pokémon, and for various Yu-Gi-Oh! characters.
I like to thank Macmillan Audio for providing me with a copy of this audiobook in exchange for an honest review.
Reviewed by: