Wild Country Audiobook
Narrated by:
Alexandra Harris
Published by: Penguin Audio 03/05/2019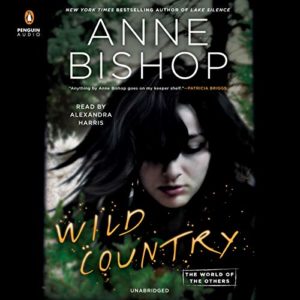 The World of the Others series #2
17 hrs and 57 mins
Wild Country Audiobook Sample
Wild Country Audiobook

4.5 Hearts
This is a favorite series of mine. I was in the middle of another book that I was enjoying, but had to stop to fit this book into my queue immediately. That is just the way it is for this series and me.
So this book starts off with an author's note about the timeline. This book, chronologically, takes place before Lake Silence and overlaps with Etched in Bone. There are some scenes from Etched in Bone that are mentioned in this story.
So, here we have the terra indigene living in Bennett. They have decided that the want to allow humans to return to this town and keep it running, but it will be controlled by the terra indigene. They work with the Lakeside Courtyard to find humans who have the skills that are needed and are vetted before they are given papers to move to Bennett. However, there are humans who show up without going through that vetting process.
This was an interesting story. We get to meet new terra indigene, mostly sanguinati and wolves. There are also birds, but we don't get to know them really well. There were hawks, eagles, ravens and more. There were also the Simple Life folks, intuits and regular old humans. Also a panther and coyote. We also learn that Snakeguard exist, but we don't meet any in this story. There are more, but I don't want to give everything away.
I really enjoyed this story. I liked the characters that we get to meet. I liked learning more about the intuits and their abilities. I'm still amazed after what happened to humans after The Humans First and Last group did, they are still dumb enough to think they can outsmart and bully the terra indigene. Will humans ever learn? It is hard to feel sorry for humans when you read these stories.
Another great addition to this world. I hope this isn't the last we see of Bennett (also Prairie Gold, though we didn't see a lot of it). This story doesn't feel like it is done. It needs more. I have to know where Bennett goes from here. **patiently awaits next book**
Wild Country Audiobook Narration
4.5 Hearts
Alexandra Harris continues to do a great job for this series. I can't imagine anyone else reading this series. I love her why array of voices. The pup sounds she makes are cute. If you haven't given her a listen, I highly recommend her.
Anne Bishop lives in upstate New York where she enjoys gardening, music, and writing dark, romantic stories. She is the author of fourteen novels, including the award-winning Black Jewels Trilogy. Her most recent novel,Twilight's Dawn, made the New York Times bestsellers list. She is currently working on a new series, which is an urban dark fantasy with a bit of a twist.
Crawford Award (2000)
Alexandra Harris is an actress, known for The Posthuman Project (2014), The Prophet's Son (2012) and In the Shadows (2012).
Reviewed by: