Wild Embrace Audiobook

By:
Nalini Singh
Narrated by: 

Angela Dawe
Published by: Tantor Audio 08/30/16

11 hrs and 5 mins
Wild Embrace Audiobook Sample
Wild Embrace Audiobook

4 Hearts
While I'm not a huge fan of anthologies, I love when when an author does one entirely for a single series, as Singh has done here with Psy-Changeling series. I love that peak into the lives of lesser known (or not known at all) or the look into a deeper look into the lives we already know. We get a little of both in this book.
Echo's of Silence
Stefan Berg & Tazia Nerif
This is the story of a Psy and a human who spend most of their time on Alaris the deep sea station, which has been mentioned in several books. Stefan is also a TK Psy who's been mentioned in several stories, but I'm pretty sure, he hasn't had any pagetime himself. This story takes place before the fall of Silence, so it is very irregular for Stefan to not be completely silent, but he has a bit of PTSD which prevents him from shutting down his feelings. He is quite fascinated with Tazia, the human engineer, who is on the Alaris with him. When they both go topside for the mandatory break from the deep sea, he takes her with him to help with the clean up from a massive earthquake. This is a pretty romantic story, especially for early Psy who could be "rehabilitated" for not following silence.
Dorian
Dorian (many different glimpses in his life)
Dorian had a tough childhood. He was a leopard who was born latent, he wasn't able to shift. I really liked seeing back to Dorian as a child. I also loved to see how his family and alpha gave him so much love and hope to make him the man he becomes in the stories where we met him. How he was taught that he could be a valuable member of the pack, even if he did have this disability of not shifting. We see him as a boy, a teenager, and as adult when his mate finally helps him to shift. It was a very fun story.
Partners in Persuasion
Felix Grady & Dezi
This is a fun story about a submissive male from Snow Dancer wolf pack and a dominate female in the Dark River leopard pack. Felix was a model and then became a horticulturist. He's also a very submissive wolf. He's tried dating a dominate before and it didn't end well. He is very hesitant to try it again. Dezi is a soldier working her way up in the pack. She has really liked Felix, but didn't really know about how to approach him. She is very concerned about dominating him and that isn't what she wants in a relationship. It is a great story. Although, I don't think we've ever met either of these characters before, we do see some favorites.
Flirtation of Fate
Kenji & Garnet
Kenji and Garnet are both wolves. They've dated in the past, but had a fairly bad breakup. They now each run remote dens for Snow Dancer. When Kenji visits Garnet's den for a meeting, there is a murder of one of their own. Kenji must work not only with his ex, Garnet, but also with her current lover Rev. They are all able to put aside their past (and current) romances to work together to try to solve the murder. During that time, Kenji and Garnet are drawn to each other (don't worry, no cheating). The only downside here is the trope of "I'm going to leave you for your own good", which is not something that I'm a huge fan of. Well, truthfully, I'm not a big fan of second chance loves, but there are a few I enjoy, and this is one of them.
These are four really fun stories. This is a must read/listen for any Psy-Changeling fan. Each story is different, but all exciting in their own way. I loved meeting new characters and spending time with ones I know. If you've not read this series, I don't recommend this as your introduction. I also don't think you need to be fully caught up in the series to read this one. I think if you've read Dorian's story, Hostage to Pleasure, you would be good to read this one.
Wild Embrace Audiobook Narration
4.5 Hearts
I love Angela Dawe's narration of this series. I'm always willing to turn down an book in order to listen to her narrate this series. I think she does such a great job with the shifters and the Psy. You can really feel the warmth of the changelings and the coldness of the Psy who are still in Silence. I like her male and female voices. There are so many voices in this series, as you can imagine with a PNR series that has 13 full-length novels in it, plus novellas of even more characters. She does a great job with the different variations. If you haven't tried her narrations, I highly recommend them.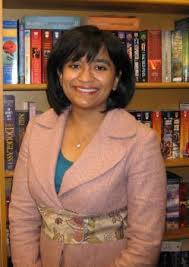 I've been writing as long as I can remember and all of my stories always held a thread of romance (even when I was writing about a prince who could shoot lasers out of his eyes). I love creating unique characters, love giving them happy endings and I even love the voices in my head. There's no other job I would rather be doing. In September 2002, when I got the call that Silhouette Desire wanted to buy my first book, Desert Warrior, it was a dream come true. I hope to continue living the dream until I keel over of old age on my keyboard.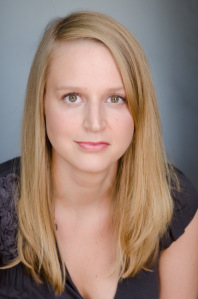 Angela Dawe is an audiobook narrator and actress living and working in Chicago, Illinois. Winner of several Earphones Awards from Audiofile Magazine and narrator of two Audie-nominated audiobooks, Angela is also an accomplished improviser/sketch comedian, and has worked with such theaters as Second City, iO (formerly improvOlympic), and The Annoyance.
I like to thanks Tantor Media for providing me with a copy of this audiobook in exchange for an honest review.
Reviewed by: