Wildest Dreams Audiobook

By:
Kristen Ashley
Narrated by: 

Tillie Hooper
Published by: Audible Studios 06/21/16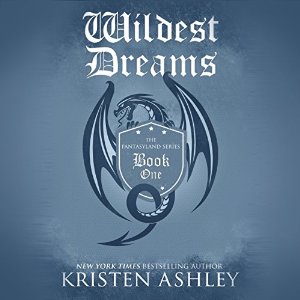 18 hrs and 49 mins

Wildest Dreams Audiobook Sample
Wildest Dreams Audiobook

4 Hearts
I read the second book in this series, The Golden Dynasty, a few years ago based on the recommendation by Jessica Haluska from Rabid Reads. I loved the book, but never got a round to picking up any of the others, even though I wanted to. I was really excited to see that Audible was releasing these books on audio, because I can get to a lot more books on audio than I can to sit down and read them, so I quickly grabbed this one up to try it.
Since I had read book two, I had a little bit of an idea of how this story might go, but this one is a bit different. Basically the jist of it is, Seoafin "Finnie" Wilde who lives in the world we all know. She lost her parents when she was a teenager. They were adventurers and instilled that love of adventure in their daughter. When Finnie hears about the chance to travel to a parallel universe, she is more than willing to drop the million dollars to do this and trade places with her twin from this other place for a year.
Once Finnie gets to this new world she finds out that the other Seoafin wasn't as truthful as to her reasoning for wanting to switch worlds. Within minutes of arriving, Finnie is whisked away by her mother to be wed to The Drakkar as part of an arranged marriage. Frey Drakkar knows the original Seoafin of this world and he is not a fan. He treats Finnie as if she is this other woman (who I might add is also known for not liking men and having a knack for taking care of herself). He drops Finnie off at his lodge and leaves her there. When he comes back, he does start to notice the differences between the two females and the elves confirm it. That is when his attitude towards her changes, though he does not mention to her that he knows her secret.
While The Drakkar does start off as rather a jerk and continues to make mistakes along the way, overall, I think he does mean well. He lives in a world that is much different than the world we live in. Like many fantasy novels, this is world is much more like olden times where there is no technology, more horses, men make the decisions and there is magic. Add to the fact that Frey is a very important person in that he has the loyalty of both the elves and the dragons, he is used to getting thing his way.
That being said, Finnie isn't blameless in this story. She gets really upset at Frey about something that happens before she even knew him. Plus, she isn't taken into account that the culture in this world is different than what she is used to. I thought she was a little hard on him at times, too.
While the romance is a large part of this story, the world that Kristen Ashley has built here is pretty amazing. I really loved it. There is also some action as there is a plot to kill Seoafin. We also get to see how Finnie steps up to being a princess and a ruler.
I really loved being back in this world. I'm even more excited to pick back up the second book of the series, which I loved when I read it and I know I'm going to enjoy listening. If you enjoy fantasy romance, this is a fun series that I highly recommend you try.
Wildest Dreams Audiobook Narration
4.5 Hearts
Tillie Hooper is the alter-ego of a narrator that I've listened to before. I don't know how common it is that they are both the same person. As I expected, she did an amazing job on the narration of this series. She has a great pace (though I do listen at 1.25x, but that is standard for me). I thought her male and female voices were great. All the different characters had their own unique voices. If you haven't tried anything by Tillie Hooper I highly recommend her.
Kristen Ashley grew up in Brownsburg, Indiana but has lived in Colorado and the West Country of England. Thus she's been blessed to have friends and family around the globe. Herr posse is loopy (to say the least), but loopy is good when you want to write.
Kristen was raised in a house with a large and multi-generational family. They lived on a very small farm in a small town in the heartland and existed amongst the strains of Glenn Miller, The Everly Brothers, REO Speedwagon and Whitesnake (and the wardrobes that matched). Needless to say, growing up in a house full of music, clothes and love was a good way to grow up. And as she keeps growing up, it keeps getting better.
I like to thank Audible Studios for providing me with a copy of this audiobook in exchange for an honest review.
Reviewed by: