Discount Armageddon Audiobook

By:

Seanan McGuire



Narrated by:

Emily Bauer



Published by: Audible Audios 11/20/12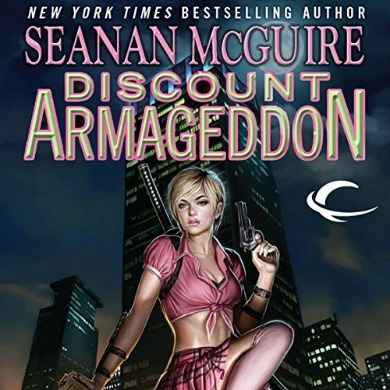 Incryptid Series #1
11 hrs 20 mins
Discount Armageddon Audiobook Sample
Discount Armageddon Audiobook

4 Hearts
Book one of Seanan McGuire's InCryptid series was a fun listen that was told from the point of view of a snarky heroine named Verity Price. Amazing world building and lively characters abound in this amusing, yet at times dramatic, urban fantasy.
Verity Price is a member of a family that were once monster killers. They eventually saw the error of their ways and broke off from The Covenant, a group that thinks anything supernatural must be killed no matter if said supe was an innocent minding its own business. The family ended up settling in Oregon, but now Verity has been living on her own in New York City now for a few months. Well, not exactly alone, she also has a good size group of talking mice that lives in her closet. She works in a strip bar as a waitress and her manager is a boogeyman that spends his time trying to trick people into entering his dark office. Most of her off time is spent hunting down supernaturals that are causing problems for humanity. She mainly tries to just scare them into leaving or quitting whatever their bad behavior is causing. When she meets a Covenant member on the roof of a building one night, she is pretty flabbergasted that there's one present in her town. As far as the Covenant member, Dominic De Luca, he is also pretty shocked. Price's are thought to have died off. Yep, these two are supposed to be enemies along the line of Hatfield's and McCoy's. When monsters start disappearing and Deluca swears he wasn't the cause, the two uneasily team up to find out what going on.
Verity is certainly not a one dimensional character. She's full of snark and courage and spends her off time from monster hunting, ballroom dancing. She's been taught since before she went to school how to fight and she travels the city by navigating rooftops. She's made friends with many of the cryptids in NYC and even collects the mail for one supernatural family. It's her family's job as cryptozoologists and now her job to help the cryptids, so between De Luca killing the supes, and others now disappearing, Verity is not happy. De Luca has been fed a bunch of lies about cryptids his entire life. He's been sent from England to find out if it's time for a purge of all cryptids in New York. He starts out acting like a cult member and slowly changes the more he's around Verity.
The world building was nothing short of amazing. In this world, there's a huge variety of supernaturals that live along side humans-mostly in secret. The strip club is manned by all cryptids, although humans are clueless. Verity works with a medusa that is at odds with the snakes on her own head and several dragon princesses, although dragons are pretty much missing in action. Or are they?
Discount Armageddon Audiobook Narration
5 Hearts
I had a great time listening to this book. Narrator, Emily Bauer, was pretty great. She was perfect at the snark and funny when she needed to be. She tells the story in a way that kept me listening pretty much non-stop. Her male(De Luca)British accent was done well and I appreciated it. So I would highly recommend listening. Thanks to Kimberly at Caffeinated Read's recommendation, I listened and was glad that I did. So for me, narration was 5 stars.
Highly recommended to people that love urban fantasy, all sorts of different supernaturals-some I've never heard of-and fun characters. Keep in mind, this is more of a fun listen, but does have violence and suspenseful situations
Seanan McGuire was born January 5, 1978 in Martinez CA. She studied folklore and herpetology – ''folktales and snakes'' – at the University of California, Berkeley. She has worked as a phone sex operator, a technical support engineer, an exotic animal rescuer, and a process engineer for communications company SBC, but in recent years has worked as a quality assurance engineer for a non-profit.
McGuire is a relatively new writer, but a prolific one. Debut novel Rosemary and Rue (2009) launched her October Daye urban fantasy series. Later books in the sequence include A Local Habitation (2010), An Artificial Night (2010), Late Eclipses (2011), One Salt Sea (2011), and the forthcoming Ashes of Honor and The Chimes at Midnight. Her new InCryptid series launched with Discount Armageddon (2012) and will continue with forthcoming Midnight Blue-Light Special.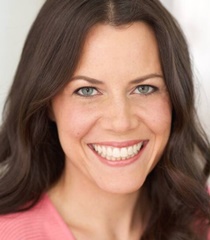 Emily Bauer is an American film actress and voice actress. For her voice acting work, she has also been credited as Emily Blau with roles in a number of English language dubs of Japanese anime shows.
Reviewed by: