The Law of Moses Audiobook

By:

Amy Harmon



Narrated by: Tavia Gilbert and J D Jackson

Published by: Tantor 5/26/15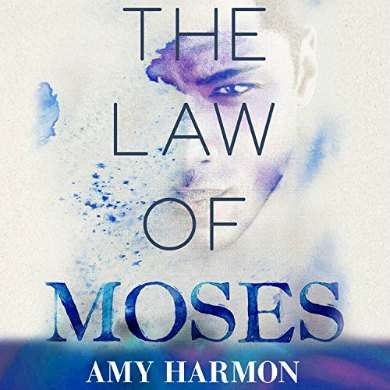 The Law of Moses Series #1
11 hrs 29 mins

The Law of Moses Audiobook Sample
The Law of Moses Audiobook

4.5 Hearts
Amy Harmon. If you haven't read her before, you really should try her. Me? I was so not with it. I read and reviewed A Different Blue years ago and loved it. And I stopped there. I have no idea why I didn't go on with her other books, but recently I renewed my acquaintance with her work and have loved all of it. I am steadily working my way through them and The Law of Moses is the latest one I listened to.
Moses was abandoned as a baby and was the product of a crack addict. So he had a huge strike against him from the beginning. He comes to live in a small town with his grandmother and meets Georgia. Georgia works at her parents ranch breaking horses and helping with therapeutic rides for disabled children. Moses doesn't do much except paint-I am sure he has a job, but it wasn't that big in the story. At any given moment he paints without thought of the media he is using or what he may be putting out there for the world to see. This includes very public spots. When he starts painting pictures of a missing young woman it puts him in the cross-hairs of every citizen of the town and law enforcement.
These two main characters are anything but cookie cutter. They are flawed and are older teens when the book begins, and not every decision they make is a good one. Moses is…shall we say different? He is introspective, even with Georgia, and not a big communicator. He's not unintelligent, as was first thought due to his low beginnings, but just keeps to himself. Georgia is just the opposite, she's younger than Moses and really just wants him for herself. She's definitely not quiet. Moses doesn't understand her or why she wants him. At times you wonder what he even thinks about her, while her feelings are right there for all to see.They do have a brief romance before he leaves for several years and then comes back to a town with more missing women, and even more suspicions about him. He also comes back to a Georgia that is older and has gone through major heartbreak.
What makes this story paranormal is that the painting he does is showed to him by ghosts. That's not really a spoiler as I realized it early on. One ghost in particular will win your heart really quickly. Yet another reason that Moses is different, although he doesn't exactly tell everyone what he can do at first. I found this part of the story pretty fascinating.
The inclusion of the mystery/thriller element of the missing/dead girls only added to the story. I liked how it was peripheral to the romance but important to the overall story. The fact that Georgia "fits" the murderer's type was also a bonus element.
The Law of Moses Audiobook Narration
5 Hearts
Narration by Tavia Gilbert and J.D. Jackson earned a 5 star from me. I had listened and enjoyed Ms. Gilbert before, but had not listened to J.D. Jackson before. I thought they both did a stellar job narrating and would be happy to listen to them again.
This book was a different sort of romance, a mystery, a ghost story, and at times a thriller and I enjoyed the whole thing. I thought Ms. Harmon's writing was top notch as usual and she easily drew me into the story and kept me wanting more. I highly recommend this listen to adults that enjoy a kind of quirky romance with paranormal and thriller aspects.
Amy Harmon is a Wall Street Journal, USA Today, and New York Times Bestselling author. Her books have been published in eighteen languages, truly a dream come true for a little country girl from Utah.
Tavia Gilbert (SAG-AFTRA/AEA) is an award-winning narrator with nearly 300 audiobooks under her belt. Contemporary and literary fiction, biography and memoir, fantasy, romance, children's literature, science and religion.
Classically trained in voice and theater, Tavia attended the University of Washington and earned her Bachelor of Fine Arts in Original Works in Acting from Cornish College of the Arts and a Masters of Fine Arts in Creative Non-fiction from Vermont College of Fine Arts. She has been singing in choirs since she was 12 years old and has been working full time as a voice actor since 2006.
J. D. Jackson is a theater professor, aspiring stage director, and award-winning audiobook narrator. A classically trained actor, his television and film credits include roles on House, ER, Law & Order, Hack, Sherrybaby, Diary of a City Priest, and Lucky Number Slevin.
Reviewed by: