WHEN Audiobook

By:

Victoria Laurie



Narrated by:

Whitney Dykhouse



Published by: Brilliance Audio 1/15/13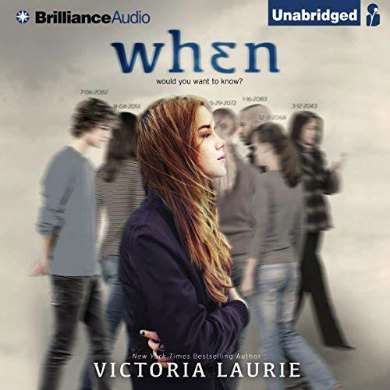 9 hrs 15 mins

WHEN Audiobook

4 Hearts
Review: When by Victoria Laurie
Would you want to know your date of death ahead of time? That's partially what this book is about-well maybe more than partially at times. Maddy realized when she was very young that she was seeing people's death dates on their foreheads. She can also see them in pictures of people. This kind of premise can make for all sorts of problems as you can imagine and this book took it to the extreme and I liked it.
Maddy is sixteen and lives with her alcoholic widowed mother in a small town. Because they have very little money, Maddy "reads" people's death dates for payment. One evening a new, very rich client comes and when Maddy tells her that her healthy son is going to die the next week, the lady is upset and calls her a fraud. When the boy is in fact murdered, Maddy comes under major suspicion for the murder. After Maddy's best friend Stubby's crush on a new girl in town gets quashed by her death date being the next week, they try to help keep the girl alive without getting even more involved. Their efforts end up in total ruin and put them both under suspicion.
Maddy is smart, shy and only has one friend. Her dream is to go to Cornell University-a dream that will probably not happen for a girl with her meager means. Stubbs is genius level smart. He loves to skateboard and is the best friend Maddy could ever hope for. And yes they are just friends, which was refreshing. Of course, Maddy has a crush on a guy at another school, but he only shows up for a very few scenes making this a thriller, rather than a romance. There's two pretty horrible FBI agents that are on Maddy and Stubbs trail and ended up being almost as bad as the actual serial killer at times. Tunnel vision and all that, that implies. I know I wanted to knock them upside the head at times myself. Maddy's mother is not a very sympathetic character either. Pretty much, Maddy has to take care of the mother, not the other way around. Maddy's lawyer uncle comes in handy for support and law services and was also a pretty major character in this story. The story is riddled with people that could be the suspect and I admit, I didn't figure out the who done it part-which is pretty unusual for me. A definite plus for this book.
I did have a few problems with the story. Maddy has at least one, if not two, too stupid to live moments. I guess that's pretty much a given in many thrillers, but I was wishing she was smarter than that. The other major thing I didn't like was the FBI agents. You will come out of this read thinking that agents are evil and I really don't believe that. Also, every character called them "the Feds" instead of the FBI and I thought that was unusual. One character maybe, but everyone-no, it wasn't believable. And where were the local police? Nowhere to be found in this book, that's for sure! The serial killer aspect in a young adult book is pretty rare, I think, and this one doesn't shy away from many of the pretty horrific details. For that reason, I think the book is more for older teens, 16+. Just my opinion, of course.
When Audiobook Narration
4.5 Hearts
Narration by Wendy Dykhouse was good. She honestly sounded like a teen girl and when she needed to sound like a teen girl crying or just being upset, she was pretty perfect. In fact, all of her female voices from teens, to adults, to elderly lady were spot on. Her male voices weren't quite as good, but having said that, they didn't take me out of the story because of that. More importantly, the serial killer's voice was down right creepy, and the FBI agents were suitably mean. To me, the narration was 4.5 stars. I would happily listen to Dykhouse again sometime.
Recommended to readers(listeners) that like young adult thrillers.Interesting premise and good characters kept this book enjoyable until the last second of listening.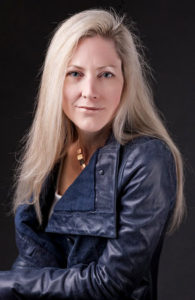 Real-life professional psychic Victoria Laurie draws from her career as a gifted clairvoyant and police psychic to create the character of Abigail Cooper. She lives in Arlington, MA with her two spoiled Dachshunds, Lilly and Toby. For information about upcoming novels and appointments for readings, visit her at her website.
Whitney Dykhouse balances two careers as a professional actor and teacher in Grand Rapids, Michigan. She teaches middle school Spanish and also works as a print, theatrical, and voice actor in her spare time. Her credits include award-winning commercial voice-overs, modeling, regional theatre, and narration work. She lives in Ada, Michigan, with her family.
Reviewed by: