Feedback Audiobook

By: 

Mira Grant
Narrated by: 

Georgia Dolenz
Published by: Hachette Audio 10/04/16

16 hrs 34 mins
Feedback Audiobook Sample
Feedback Audiobook

5 Hearts
I started listening to Mira Grant's Newsflesh trilogy last year, so I was very late to the party. That's really good news for me, I didn't have to wait for her to decide to tackle the other side of the campaign.
The first three books in this series follow Sean and Georgia Mason as they follow Senator Ryman's presidential campaign. There are three books and an anthology devoted to the characters. In the continuation of the series (this could've also been marketed as a spinoff series), we follow Aislinn ("Ash"), Ben, Mat, and Audrey as they follow Governor Susan Kilburn's bid for the same presidential campaign. This book's timeline is the same as book one, Feed.
So, this world is set about 20 years after "The Rising" when the dead decided to get up and keep walking. While things with zombies are bad, there is government, technology and systems in place to help keep the outbreaks down. Zombies still exist, but they aren't the problems you're used to seeing in most zombie books/movies/TV shows. People have learned how to live with them. The other interesting thing about this world, animals turn into zombies. People had to give up their dogs or risk them "amplifying" and attacking you. The same is true of livestock. Very little meat is eaten anymore, aside from eggs, chicken and fish, as larger animals can amplify and contaminate the meat.
So, this story is narrated by Ash. She is an Irish woman who fled Ireland, which isn't as easy as it sounds. To do so, she married Ben, who is nothing more than a friend and now a co-worker as they work on the same blogging team. Ash is the Irwin (Irwins are named for Steve Irwin because they never saw a zombie they didn't want to poke with a stick). Ben is a Newsie. Newies tell the factual truth and basically replaced journalists of our day because they lied to the public about the zombies during The Rising. Then there is Audrey. She is the team's Fictional, which is exactly as it sounds. She is also Ash's girlfriend, remember how I said Ash just married Ben for the greencard. She is a lesbian. Ben is okay with this infidelity because they were married in the legal sense only. There is a love between Ben and Ash, but it is the love of two really close friends. Last, but certainly not least, is Mat. Mat is genderfluid and the team's techie. Mat also has a great following as a makeup artist. Mat prefers pronouns of "them" and "they".
This team of bloggers isn't in the big leagues of the Mason's, whose parents started the whole blogger as journalist thing. They just want to be able to make their way in the world. Ben really wants to fix up the house that was left to him and protect his sister. When they get asked to go on the campaign trail following Governor Kilburn, they had no idea what was in store for them. This story is filled with as much plotting and political intrigue as Feed, as we watch our bloggers try to stay alive while also reporting on the news of the political campaign.
This story has diversity in spades. I applaud Grant for creating a diverse book. Ben is black, married to a lesbian Irish white girl, who's dating an Asian woman. Add in Mat, and that is an extremely diverse group of bloggers all working together on this campaign. There is also meetup with another candidate on the trail who worked as a stripper at one point and used her beauty to win over the people of Nevada. She worked hard to destigmatize the sex worker trade and to get them better working conditions.
I loved this story. I was so glad to get back into the Newsflesh world. The characters that Grant has created as just wonderful. Those characters, paired with a very unique zombie world, that has made this series so great in my mind. If you're a fan of The Walking Dead or zombies in general, I can't recommend this series enough. You can start with this book if you want, but you must know, that because this book takes place during the same time as Feed, you will learn some spoilers about Feed if you choose to go back and read it later.
Feedback Audiobook Narration
4 Hearts
If there is anything I could fault in this series, it is the fact that each book has different narrators. The original trilogy has both male and female narrators for each book, which is not the case here. We have only one narrator for this story, Georgia Dolenz. I started this book not having any idea who the narrator would be. I will say that they picked a great choice for this book. Since Ash is our main storyteller and is from Ireland, this narrator must be really good as Irish accents. I can say that she nailed it. She did a great job with not only Ash's voice, but with all the voices of this story. There are a lot of voices, both male and female, and she did a great job with all of them. I will be on the lookout for more books by Dolenz.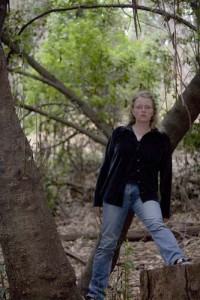 Mira Grant was born and raised in Northern California, where she has made a lifelong study of horror movies, horrible viruses, and the inevitable threat of the living dead. In college, she was voted Most Likely to Summon Something Horrible in the Cornfield, and was a founding member of the Horror Movie Sleep-Away Survival Camp, where her record for time survived in the "Swamp Cannibals" scenario remains unchallenged.
Currently, Mira lives in a crumbling farmhouse with an assortment of cats, horror movies, comics, and books about horrible diseases. When not writing, she splits her time between travel, auditing college virology courses, and watching more horror movies than is strictly good for you. Favorite vacation spots include Seattle, London, and a large haunted corn maze just outside of Huntsville, Alabama.
In her guise as mild-mannered urban fantasy author Seanan McGuire, Mira was the recipient of the 2010 John W. Campbell Award for Best New Writer. You can find her works as both Mira and Seanan at her main bibliography page. Seanan's website is the best place to find information on where both she and Mira will be appearing.
Both Feed and Deadline have been nominated for Hugo Awards, as has "Countdown," the first novella in the Newsflesh universe.
Narrator: Georgia Dolenz
Georgia lived and studied in England for most of her life, where she gained a Theatre Degree, and an accent. After working on the London stage, she moved to Los Angeles where she continues to write and perform in Theatre, TV and Film.
Georgia has begun to carve a career in Voice-Over (CESD), winning Best Actress at the 2012 Avery Awards and working on children shows, national commercials, video games and feature films.
She is thrilled to be a new member of the Sunday Company at The Groundlings!
She also performs with her own sketch team – "We're Having A Panic Attack" More info about up-coming shows and videos can be found on their website: www.havingapanicattack.com
In 2013, Georgia wrote a satirical newspaper article which was published in the Downsized Living magazine. Ever since then, she have been writing through The Groundlings and on personal projects, including pilots, animated shorts, satire, blogs, sketch and classic journalism.
Georgia's blogs includes a travel blog (Flap During Take Off) and a woodworking blog (Keep Calm & Make Sawdust). An odd combination, but they both have their reasons.
In early 2013, Georgia launched a Handmade Furniture Company with her father, where they make handcrafted pieces in their home workshop. For more information please visitwww.dolenzanddaughters.com
Reviewed by: