I'll Be Gone in the Dark Audiobook
One Woman's Obsessive Search for the Golden State Killer
By:
Michelle McNamara
Narrated by:

Gabra Zackman, Gillian Flynn, Patton Oswalt



Published by: Harper Audio 02/27/18

9 hrs and 45 mins
I'll Be Gone in the Dark Audiobook Sample
I'll Be Gone in the Dark Audiobook

4.5 Hearts
I've been on a kick of reading books about serial killers (I blame Lorelei King when she talked about narrating The Stranger Beside Me by Anne Rule in her interview for Audiobook Month in 2017). I had to listen. I had actually read the book in high school, but forgot that I had. Then I went on to listen to John Wayne Gacy: Defending a Monster by Judge Sam L. Amirante and Danny Broderick. Then I was building the post for Gabra Zachman's interview for Audiobook Month in 2018, and I learned that she read the book that everyone is talking about, after the capture of Golden State Killer, I'll Be Gone in the Dark. I couldn't turn down the opportunity to listen to this book.
Now, there were several differences between this book and the two I listened to previously. One, this entire book wasn't written by Michelle McNamara. She died prior to the book being finished. I do feel that the editor did a great job of pulling together Michelle's notes to get as much of the research that she had into the book, but there is a huge difference between McNamara's writing and what was put together after she died. She just had a great way of telling her story and you can really feel her passion in the way she writes, that just isn't the same on on the parts she didn't.
The second thing is that this book was written before anyone even knew who the Golden State Killer was. Hell, Michelle McNamara is the one to give this serial killer and rapist that name. She is the one who figured out that several suspects (Original Night Stalker, Visalia Ransacker and East Area Rapist, aka EAR) were all the same person. The two books I listened to, both killers had been convicted. The first one, Bundy had been convicted when the book was originally released, but had several Afterwords that were added in later additions as more came out until he was finally put to death. Gacy's book was written after he was already put to death. This really changed how to the story felt, because there really wasn't a conclusion to the story. And unfortunately, McNamara will never be able to write her Afterword to give her book the conclusion that Anne Rule was able to do with hers.
This book is the columlation of Michelle McNamara's obsession with cold cases going back decades. She had a true crime website called TrueCrimeDiary. She had a fascination with the death of a girl, Kathleen Lombardo, who lived two blocks from Michelle. That just drove her to research more and more. And boy, did she learn how to research. I think she was better at it than the police (who lack for time and resources, very often, especially on cold cases). Even in the book, she talks about leaving Hollywood parties (her husband is actor/comedian Patton Oswalt) because she learned a new fact that she needed to do more digging on.
Michelle's doggedness in pursuing this case was astounding. In a typical instance, she tracked down a pair of cuff links that had been stolen from a Stockton crime scene in 1977 on the website of a vintage store in Oregon. But she didn't do just this; she could also tell you that "boys' names beginning in N were relatively rare, appearing only once in the top one hundred names of the 1930s and '40s, when the original owner of the cuff links was likely born." Mind you, this isn't even a clue leading to the killer; it's a clue leading to the cuff links the killer stole. This dedication to particulars was typical. Writes Michelle: "I once spent an afternoon tracking down every detail I could about a member of the 1972 Rio Americano High School water polo team because in the yearbook photo, he appeared lean and to have big calves" — a possible trait of the Golden State Killer.
Michelle did a great job of showing the terror of the people in California when this was going on. She give just enough details to really let you know how bad things are, without getting grumesome or crude with the murders and rapes. You could really feel her compassion for the victims and even the law enforcement officers who lived through this man's reign of terror.
The case had a profound impact not just on fear and public safety in California, but also on the way that rapes were investigated and how rape victims were treated, said Carol Daly, a detective in the Sacramento County Sheriff's Office at the time…Rape victims were seen and cared for faster, and pubic hair, scratches and other evidence were examined and preserved, she said. Rape kits were standardized. "Every victim went through the process," she said. – From 4/25/18 – NY TIMES article
I was very impressed with everything Michelle did in research and investigating this killer. She had so much information going back many decades. How she made sense of it all is pretty amazing. Add all of that her ability to write really blew me away. I think the only thing that could've made this better would be if she had lived to see it all the way to the end (no disrespect to the people who worked so hard to finish her work so it could be released) and if she had the ability to come back and add the update when Joseph James DeAngelo, 72-year-old Navy veteran and former cop, is arrested. Things I can't fault anyone for. I hope that she can rest in peace knowing how she helped to bring this Southern California terrorist to justice.
I'll Be Gone in the Dark Audiobook Narration
5 Hearts
What to say about the narration of books like this? Listening to a book like this isn't the same as listening to fiction, no matter how dark or gruesome the fiction story is. This story is about real people who went through some really terrible tramas. The narrator has to make their way through these stories, giving voices to these people, who aren't characters, their real people. You're going through the horror that these people went through. You're constantly repeating names of people who are no longer living because of a killer, who is in a sense, the protagonist of the book you're reading. Gabra Zackman really nails the narration, as she narrates the majority of the book. Gillian Flynn reads the introduction that she writes, which I'm sure neither were easy. Patton Oswalt, the husband of the late Michelle McNamara, reads the Afterword which he writes, which again, must've been extremely difficult for him.
Michelle McNamara was a screenwriter, journalist, and true crime writer. She was the founder of the blog "True Crime Diary," which covers lesser-known crimes and cold cases. In 2005, she married comedian Patton Oswalt. They had one daughter together, born in 2009.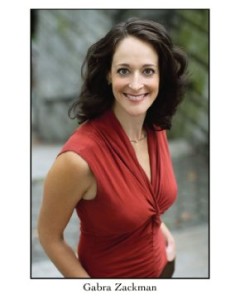 I am an actress, writer and voice over artist, frequent traveler and lover of adventure. I'm based in New York where I grew up and built my career. I'm lucky to work regularly in theater, have a parallel and sustaining career in audiobook narration, and I've had great success with my first writing contract, the humorous, romantic, spy centered BOD SQUAD series. The title of my current life might be:
"I'll Tell A Story Any Way They Let Me."
I got my start in sixth grade, wearing my mother's tablecloth as a star turn in Oedipus Rex. From there I was hooked. I studied theater at Northwestern and then went to grad school at The Shakespeare Theater's Academy for Classical Acting. I've had the privilege of working all around the country doing new plays and classics, working locally in New York theaters, and doing a handful of TV and film roles.
I have recorded over 300 audiobooks to date in studios all around the country and I love to record books in all genres. Inspired by the books I've narrated, I've completed the first three books in THE BOD SQUAD SERIES (Pocket Books 2015)- and now all sorts of new doors have opened for me. I'm so excited for all that lies ahead!
I like to thanks Gabra Zackman for providing me with a copy of this audiobook in exchange for an honest review.
Reviewed by: