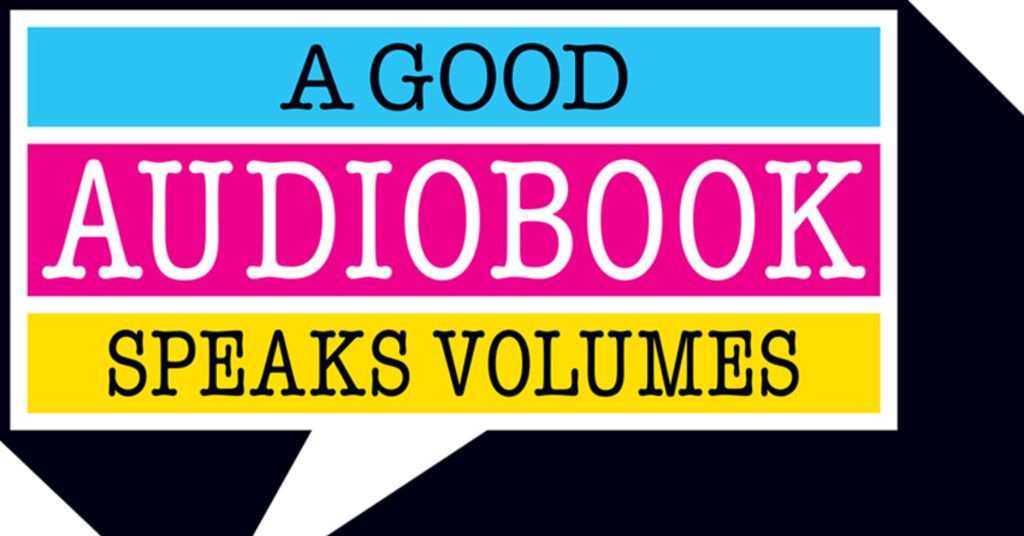 For me, the easiest way to dive into audiobooks is to listen to books is with books you're already somewhat familiar with. It helps if you miss a little something, you already know what is going on. I started my revisiting several of my favorite books, before I ever attempted to try a new-to-me book. Books that were great starter audiobooks for me, might not be the best ones for you based on this theory.

Moon Called by Patricia Briggs read by Lorelei King
This is the first book in the Mercy Thompson series. It is read by a favorite narrator, in Lorelei King, though I didn't know that when I first picked it up. This is a book that I knew I would like, because I had already read it. The narration only added to the story. I love the performance that Ms. King adds that now I go straight to audio for this series. It just isn't the same without Lorelei King's narration.
---
As You Wish: Inconceivable Tales from the making of The Princess Bride by Cary Elwes read by Cary Elwes, Christopher Guest, Carol Kane, Norman Lear, Rob Reiner, Chris Sarandon, Andy Scheinman, Wallace Shawn, Robin Wright, Billy Crystal
First, I think this is a must listen for any fan of The Princess Bride movie. This is a memoir written by Cary Elwes about the making of The Princess Bride. There are parts that are told by other cast and crew, including Robin Wright, Rob Reiner, Billy Crystal and more. Most of the cast and crew narrate their own parts (with a few exceptions that had scheduling conflicts). I really felt like I was just hearing the story about how everything was made. I just needed a picture of them sitting on a sofa next to me or something. Memoirs are a great way to get into audiobooks because they are generally read by the author, so it feels like they are just telling you their story.
My Review
---
The Shining by Stephen King read by Campbell Scott
This, I believe, was the first book that I tackled straight to audio. Now, though I had never read the book, I was very familiar with the movie, but we all know that movies leave out a lot compared to books. That was no different here. I got a lot more out of the story from The Shining than was told in the movie (like that guy in a bear suit). This story has a wonderful narrator. I found the story even more intriguing than the movie.
---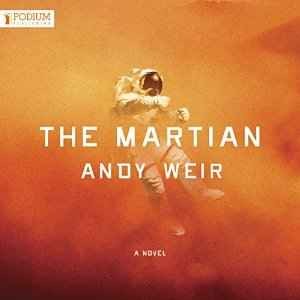 The Martian by Andy Weir read by R. C. Bray
This is an amazing book. It was my favorite listen of 2015 (even though it came out on 2013, I was late to the party). This audiobook has everything. It is a great story with a great narrator. This is not a book that I would've picked up on my own, but I had a friend who pushed me to listen and I'm so glad that I did. I then pushed my fiancé to try it on a road trip, and he felt the same way (and he is not an audiobook person. He also isn't a big reader, he reads just a book or two a year).
My Review
---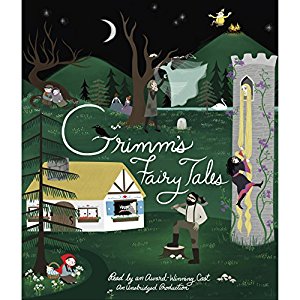 Grimm's Fairy Tales by The Grimm Brothers read by Katherine Kellgren, January LaVoy, Simon Vance, Grover Gardner, Kate Rudd, Jim Dale, Alfred Molina, Janis Ian, Graeme Malcolm, Scott Brick, Bahni Turpin, Davina Porter, Dion Graham, Edoardo Ballerini, Jayne Entwistle, Luke Daniels, Roy Dotrice, Julia Whelan, Kirby Heyborne, Mark Bramhall, Robin Miles
Yes, I know that is a ton of narrators. Each narrator has their own fairy tale to read. This is an all-star cast. I had listened to several of these narrators before this audiobook was released and I loved all the ones that I knew. I quickly found out the ones that I wasn't familiar with were still amazing too. This is a great way to start audiobooks because, again, you're probably familiar with most of the story, if not all of them. You don't have to have a long attention span because the stories are all very short. You will also be introduced to some amazing narrators. A good narrator can make or break an audiobook, so it is good to know who are some of the best. I now search new books based on narrator, just as much as I would by author. I will add that these are the original fairy tales (not the more clean versions that are published for children, so some of the stories are gruesome).
---
So, that I think is a pretty decent list of books to start off with if you're new to audiobooks. My biggest suggestion is to start with something you know you will enjoy, like something you've already read and know that you will like. Listen to a few audio clips to be sure you'll like the narration. If you know someone who's a fan of audiobooks, ask them to recommend something for you. I also recommend picking up a memoir of a favorite actor, athlete or other celebrity. Try Tina Fey, Carrie Fisher, Kevin Smith, Trevor Noah, Bruce Springsteen, Kareem Abdul-Jabbar or whoever.

JUNE IS AUDIOBOOK MONTH – GIVEAWAY! Hot Listens is thrilled to participate in the tour organized by Publisher's Association and Audiobooks.com
We invite you enter their Giveaway bellow.
FINE PRINT
Enter for a chance to win. No purchase is necessary. The giveaway is open from 12 am EDT Thursday 29 June 2017 through 12:00 am EDT Tuesday 4 July 2017.
One winners will be chosen. The prize is a pair of earbuds and 3 free audiobook downloads at Audiobooks.com (approximate value: up to US$45.00), which expire 15 July 2017. The codes have been provided by the Audio Publisher's Association and Audiobooks.com. Entrants are restricted to US addresses only, please.
One entry per person, please. Winners will be chosen at random by Rafflecopter software. Winners will be notified by email used for entry by 11:59 pm Monday 10 July 2017, and will have 24 hours to respond. If no response is received, another winner will be chosen.
Enter our Audiobook Month Giveaway!
Open to all over 13 years-old. Winner will be Announced July 1, 2017