Nefarious Audiobook
By:
Nicole Clarkston
Published by Audible Studios 11/21/2019
Nefarious Audiobook Sample
Nefarious Audiobook

4.5 Hearts
A tortured hero and a spirited heroine in a gothic-style variation on an old familiar classic pulled me in from the beginning especially from now fabulous and familiar author and narrator.
Nefarious is a variation on Jane Austen's Pride & Prejudice that introduces the story with a stormy, bitter Darcy beside his wife's grave. Hating the perfidy she and her family used to manipulate him into marriage and access his wealth (ala Mr. Rochester's in laws from Jane Eyre), he swears he will never trust another Elizabeth. Gasp! Then the man decides to court the sister. Double Gasp!
But, that is only the first of the shocking twists on the original as Darcy endures much at the hands of his enemies and alienates the one woman who is nothing like his wife though she shares the same given name and has an ambitious mother and now counts herself as hostile toward the rude, arrogant man from Derbyshire.
It was full of angst and pushed me to my limits. I'm not generally a fan of that much angst and over the top gothic villainy, but something about the author's writing and the story kept me listening and vested in the story. I had to know how Darcy saw his way through all the plotting against him from all sides it seemed and won Miss Elizabeth's favor and love after he set her against him so strongly. I'm a softy for a wounded, brooding hero who has to overcome so much both character-driven and action-driven conflict and a strong, engaging heroine who has her own flaws to overcome and does.
Surprisingly, it wasn't all doom and gloom. The humor-laced leaven in the lump even during the darker scenes had me smiling and sometimes laughing a little. I was glad to see it there so my emotions got a reprieve and the story felt more balanced.
As this was a Pride & Prejudice variation, I enjoyed seeing familiar characters, dialogues, and key scenes, but they were sometimes creatively mixed about to form this new story. Those who haven't read the classic tale would do all right as a result.
All in all, Nefarious was captivating to my senses and had me emotionally vested in the outcome of this tumultuous variation tale of treachery and romance. I would recommend it to historical romance fans who like a bit of the classic gothic feel to their read-listens.
Nefarious Audiobook Narration
5.0 Hearts
The narration work was fabulous. This was all told from Darcy's point of view and I thought Harry Frost, a now familiar and engaging narrator, captured Darcy so well. He voiced the bitter anger and betrayal as well as the lighter amusement. He did great with gender, age, class, and the various situations. I felt he gave an already solid story more depth and would happily look up more of his work.
Nicole Clarkston is a book lover and a happily married mom of three. Originally from Idaho, she now lives in Oregon with her own romantic hero, several horses, and one very fat dog. She has loved crafting alternate stories and sequels since she was a child watching Disney's Robin Hood, and she is never found sitting quietly without a book of some sort.
Nicole discovered Jane Austen rather by guilt in her early thirties―how does any book worm really live that long without a little P&P? She has never looked back. A year or so later, during a major house renovation project, she discovered Elizabeth Gaskell and fell completely in love. Her need for more time with these characters led her to simultaneously write Rumours & Recklessness, a P&P inspired novel, and No Such Thing as Luck, an N&S inspired novel. Both immediately became bestselling books. The success she had with her first attempt at writing led her to write three other novels that are her pitiful homage to two authors who have so deeply inspired her.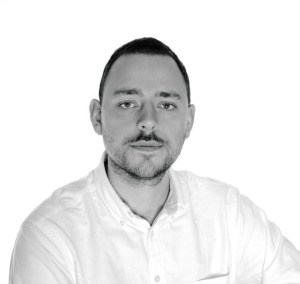 Harry Frost is an English voice actor specialising in audiobook narration and production. He's passionate about the power of the audio medium to bring literature to life in every sense of that phrase; to reconnect writing to the spoken tradition it never really escaped, and to turn books into true companions for life as it is lived, rather than things one must escape the world and defer responsibility to read. His studio is in rural Leicestershire, he has recently found an unlikely love of Economics, and he makes a really good Manhattan.

My thanks to Audible Studios for the opportunity to listen to this book in exchange for an honest review.
Reviewed by