Promises to Keep Audiobook
By:
Genevieve Graham
Narrated by:
Alexis Quednau
Published by Brilliance Audio 9/19/2017

8 hrs and 16 mins
Promises to Keep Audiobook Sample
Promises to Keep Audiobook

5 Hearts
Set against the tumultuous time of 1755 in Acadia, this sweeping family saga and love story tells of the waning days of the French controlling Canada, the British battle to take it, and the poor Acadian farm families caught in the middle. Graham's authentic, heartwrenching, yet hopeful tale focuses in on one Acadian family, the Belliveaus, and a war-weary Scot caught between love, honor, and duty.
Amelie Belliveau watches in horror as the British take everything from her and her family and shatter the loving family who are forced in many directions to survive even while she is conflicted about the feelings she has for one of the soldiers who understands all too well, having been a Scot who survived the English rushing over his Scottish lands and family. Connor MacDonnell swears a promise to her that she holds onto through so much heartbreak and misery. Connor will sacrifice anything to keep that promise and does.
This book had me crying so often that I'm glad I listened to it in the privacy of my own home. Lands, the tears I shed. This was such a heartwrenching story. I've read about the Acadians who were forced off their land onto ships that took them away with little more than the clothes on their backs only to find they were unwanted where they were dumped off elsewhere. I knew it would not be an easy or light story and it wasn't. I was deeply impressed with the author's attention to historic and cultural details and the depth of each character. This is a saga so there are so many characters with Amelie and Connor the central figures. All sides were represented in the cast of characters and I loved seeing it all.
The story is mostly told from Amelie's perspective. She starts off naive yet impetuous and headstrong. Then as events unfold she is forced to mature and grow strong in this trial by fire she endures. Connor, too, is an exceptional man. The pair needed a break and I was really rooting for them. It seemed each time they were going to get their chance, it was not to be and noble sacrifice was called up. Now, I might have cried my eyes out, but I also felt so much more. This was heartwarming and romantic in an understated way. Connor gave so much out of love and Amelie did as well. Others were getting their stories in the background and I was engaged with that, too.
So, this was a powerful story that has stayed with me afterward. I've read the author before and know this is not a fluke. Incidentally, it occurred to me after I finished that the cousins Connor mentioned must be the family that featured in the author's MacDonnell series that I read. She has a way of making history come alive and makes one feel attached to her characters who go through so much.
Promises to Keep Audiobook Narration
4.5 Hearts
As to the narrator, Alexis Quednau, was a first encounter for me. She had the job of French Acadian accents, British, New Englander, Native American, and oh so many characters with all that glot of emotion, too. I thought she told this one so well. She took the right tone and hit a good balance between inflection of emotion and the distance a good narrator needs so the listener isn't distracted.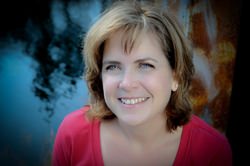 I'm a tremendously lucky lady. I have a wonderful, loving family, a beautiful home (including a cute dog and a flock of happy chickens!), AND I get to write. Really, I can't imagine a better life.
Decades ago (!) I went to university to be a professional oboe player. I never planned to be a writer. I never even tried to write a story until I was over forty – which is proof that you're never too old to try something new.
My passion is breathing life back into history one story at a time, and I am now focusing on Canadian History. Our country is rich with stories which have yet to be told, and my characters are impatient to share! When you finish one of my books, I hope you will be able to say you've learned something about Canada's history, but I also hope you can say the book moved you to learn more. And I will keep bringing you more!
My thanks to the Author for the opportunity to listen to this story in exchange for an honest review.
Reviewed by