Storm Cursed Audiobook
Published by: Penguin Audio 05/07/2019

10 hrs and 15 mins


Storm Cursed Audiobook Sample
Storm Cursed Audiobook

5 Hearts
I'm always excited to get back the Mercyverse, be it with Mercy and Adam or Charles and Anna. I love both couples, but this one follows Mercy. In Stormed Cursed, we are back in the Tri-Cities. Mercy's garage is finally back up and running.
I don't want to go too much in what happens in this book, not to spoil things for anyone who hasn't started yet (what are you waiting for, this is amazing series, you're really missing out).
It was great to see Mercy back with Stephan, Zee, Uncle Mike. There are some new characters that play a larger roll in this story too. Tad plays a larger part and is back working with her at the garage. We even get to see Tad and his dad, Zee fighting together.
Elizaveta and her family plays a large rolls in this story, as black witches want to become the main witches of the Tri-Cities. Needless to say, Mercy has something to say about that.
This story is amazing. It was great seeing so many characters again. I liked seeing some smaller characters have a larger roll. There are some great times and there are some sad times. This book left me reeling. I enjoyed it, but was a bit sad too. It was a perfect story. It makes me want to start over and listen to the whole thing all over again (starting with Moon Called and getting Charles and Anna in there too).
Storm Cursed Audiobook Narration
5 Hearts
Lorelei King really nails the narration of this series. She always has. This series is one that helped spur my love of audiobooks. Lorelei King is Mercy for me. I highly recommend King's stories. If you haven't listened to her narrate a series, you're really missing out.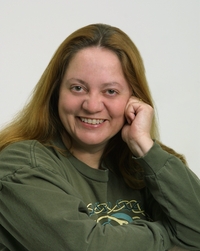 Patricia Briggs was born in Butte, Montana to a children's librarian who passed on to her kids a love of reading and books. Patricia grew up reading fairy tales and books about horses, and later developed an interest in folklore and history. When she decided to write a book of her own, a fantasy book seemed a natural choice. Patricia graduated from Montana State University with degrees in history and German and she worked for a while as a substitute teacher. Currently, she lives in Montana with her husband, children and six horses and writes full-time, much to the delight of her fans.
Once described as 'the best known American voice on radio 4,' Lorelei King has recorded more than 200 programs for the BBC, including the Marx Brothers tribute, 'Flywheel, Shyster and Flywheel,' super-hero 'audio movies' including 'Superman,' 'Batman' and 'Judge Dredd and classic American drama such as 'East of Eden,' 'Ethan Frome' and 'A Thousand Acres.' She appears regularly as a panellist on shows such as 'Where in the World' and 'Wordly Wise' and has hosted her own talk show, 'All About Eve.'
Lorelei is a multi- award-winning narrator of audiobooks, recording the works of best-selling authors Janet Evanovich, Sue Grafton and Patricia Cornwell among others.
Her work in animation is extensive, and in America she provides the voices for 'Wendy' and 'Packer' (among others) in Bob the Builder.
Born in Pennsylvania and raised in Los Angeles, Lorelei now makes her home in London, where she lives with her husband, actor Vincent Marzello.
I like to thank
Penguin Audio
for providing me with a copy of this audiobook in exchange for an honest review.
Reviewed by: