The Case of the Missing Bubble Gum Card Audiobook
By:

R. Weir



Narrated by:
Joel Froomkin
Published by Audio Flow 10/22/2019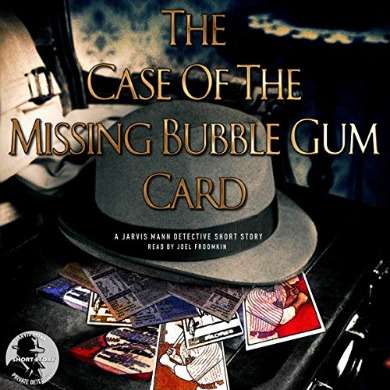 1 hrs and 26 mins

The Case of the Missing Bubble Gum Mystery Audiobook Sample
The Case of the Missing Bubble Gum Card Audiobook

4.0 Hearts
I'm always on the hunt for a new mystery series to love and happily spotted this prequel novella that introduces Jarvis Mann, the main character and a simple mystery to get a feel for this down at his heels contemporary detective and his world.
The Case of the Missing Bubble Gum Card takes place in Denver. Jarvis is the contemplative narrator of his own story in the style of old detective noir tales. It's the recession and business isn't exactly booming, okay it's at a standstill at the moment which is why he accepts the case from a teenager to help him find his valuable collectible baseball card.
Jarvis has grown jaded since he sees mostly the sordid side of life as a detective and his own life is rather gray so helping this young man interview his friends and discover the complicated truth behind the theft gives him a payment he wasn't expecting- a renewal of purpose and enjoyment for what he does even if times are lean and people can be awful.
It was a short piece, but it was well developed if a tad cheesy at times. I liked Jarvis from the get-go and I do hope his temporary teenage sidekick, Dennis, appears in more of the books. Jarvis was so funny trying to get Dennis to laugh at his jokes while Dennis didn't even catch most of them.
In summary, it was a solid start and I look forward to more of the series. Mystery fans who like old-style detective novels or TV shows are the target I think.
The Case of the Missing Bubble Gum Card Audiobook Narration
3.5  Hearts
The narrator, Joel Froomkin, was great as Jarvis and telling his story with that wry tone. I found his work easy on the ears when it was adult voices. As Dennis or his friends? That's the shaky part for me. It was a different voice than Jarvis' which was nice, but if I didn't already know, I wouldn't have guessed young African American guys. So, it took some getting used to. I'd try his narration work again and I do hope he continues to narrate Jarvis' stories.
I live in the Mile High city with my wife, daughter, and dog, where the Rocky Mountain High isn't always achieved with an herbal substance. When not glued to the computer for work and writing, I relax by enjoying the outdoors working in my yard, traveling in our motorhome and riding a motorcycle wherever the wind takes me. My writing beckons back to the days of
detectives and dames, but with modern plots and twists. PI Jarvis Mann is tough, resourceful and a man with as many faults as virtues. His oddball sense of humor is much like mine, though I'm not nearly as tough and fearless as he is. Though no evil stands a chance against my written world!

Joel Froomkin, a six-time Earphones Award-Winning narrator, is a UK transplant, growing up with American parents in a British commonwealth. A classically trained actor with an MFA in theatre from USC, he is often cast for his unique ability to deliver native, authentic combinations of British and American sounds.
His great range and ability to bring characters to life with honesty, wit and versatility delights producers and listeners alike.
He has won Earphones Awards for 1st person British, American and Australian narrations.
He has over 200 full-length audiobooks to his credit and over 12,000 five star reviews on audible. His narration of JJ McAvoy's Ruthless People was a #1 Romance Best-Seller on
audible. He served as Director of Drama at Manchester University and has been a Theatre Professor at Indiana/Purdue University.

My thanks to Caffeinated PR for the opportunity to listen to this book in exchange for an honest review.
Reviewed by