Total Surrender Audiobook
By:
Rebecca Zanetti
Narrated by:
Karen White
Published by: Hachette Audio 03/31/2015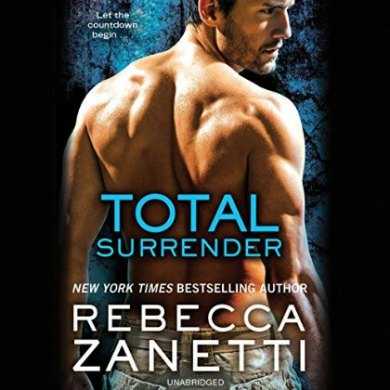 Hot

12 hrs and 44 mins

Total Surrender Audiobook Sample
A fight he must win…
Piper Oliver knows she can't trust him. They warned her that the tall, dark, and sexy black-ops soldier Jory Dean would try to win her over with his steel-gray eyes and deadly charm, but she won't be conned by this man they call a traitor. All she has to do is figure out the science necessary to save his life, and she's done. Something isn't adding up, though, and she won't rest until she uncovers the truth – even if it's buried in his deep, dangerous kiss.
A passion she can't resist…
Jory will do anything to reunite with and save his brothers – even kidnap the gorgeous woman who's working to deactivate the deadly chips in their spines. But the forces determined to destroy his family won't let them go so easily. Keeping Piper alive is more than he bargained for – and so is his burning desire for her. But with every second bringing him closer to certain death, can he afford to lose himself in her hot and willing embrace?
©2015 Rebecca Zanetti (P)2015 Hachette Audio

Total Surrender
5 Hearts
The Sin Brothers has been a whirlwind for me. I won an audiobook of book one last year and I've flown through the series very quickly. This series is packed full of adrenaline. I fell in love with all three of the Dean brothers in the first book and really enjoyed getting to know each of them. Reading each of their stories was a real treat. I quickly fell in love with each of the brother's love interest as well. I love the women, even though the brothers are the main focus of the series. In the fourth and final book, we finally get to meet Jory, the youngest brother. It was well worth the weight.
For the the first three books, Zanetti has led us to believe that there was a very large possibility that Jory is no longer alive. His brothers saw him get shot, and didn't hear from him again. We start this book with Jory back in the hands of the Commander. He has recently woken up from a two year coma. He has a chip in his neck, set to severe his spine within a week, just like his brothers. The difference, his is damaged and the computers can't talk to it to deactivate it.
I was very surprised by the heroine, Piper. She is the daughter of the Commander. I can't believe he has a daughter. She is a genius computer hacker. She was brought in to try to access Jory's chip. She has a hard time knowing who to trust, her father, who she barely knows, or this prisoner, who she has been told has committed treason.
Total Surrender is a very fast paced story. All the books in this series have been quick, but this one is the fastest pace yet. There are tons of twists and turns, so we never know what is going to happen. Also, Zanetti really took this one to the wire. You really feel like you are holding your breath the entire time. The romance is hot. Jory gives new meaning to sexy.
I felt that the first three books of the series could be read out of order without missing out too much. This one is different, I would read last. I think you would miss something without knowing the full story going into this one. Total Surrender really wraps up the story of the Dean brothers. I will miss my time with the brothers and their females. This is a series that I will revisit again, that is for sure.
Total Surrender Audiobook Narration
4.5 Hearts
Karen White nails the narration of this series. There are a bunch of characters in this final book of the series. Zanetti gives all the characters we've met at least a little page time, so White had to keep all the characters straight and clearly defined with each having their own voices. The emotion that is delivered throughout the series is great, but it is ratcheted up several notches in this final story.
Growing up amid the glorious backdrops and winter wonderlands of the Pacific Northwest has given Rebecca fantastic scenery and adventures to weave into her stories. She resides there with her husband, children and extended family who inspire her every day. Rebecca has completed several manuscripts, winning award throughout the writing industry for her work. She currently writes the Dark Protector series for Kensington Publishing, the Maverick Montana series for Entangled Publishing, and the Sin Brothers series for Grand Central Publishing.
Karen White is a classically trained actress who has been recording audio books since 1999 and has well over 150 books to her credit and is a proud member of SAG-AFTRA. Honored to be included in Audiofile's Best Voices 2010 and 2011, she's also an Audie Finalist and Best Audiobook of the Year winner for 2009, 2010 and 2011 (The Hemingses of Monticello by Annette Gordon Reed, Too Good to be True by Erin Arvedlund, and Everything That Rises Must Converge by Flannery O'Connor) and she has earned multiple Audiofile Earphones Awards.