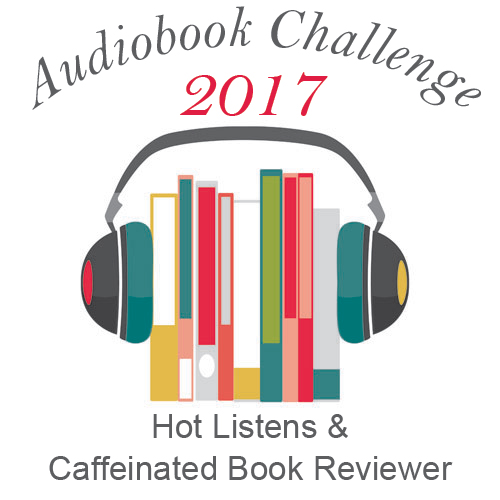 I can't believe that this year is almost over. It has been a good year for audiobooks. I've listened to 110 audiobooks this year. This is down a bit, but I've also listened to seven books that were over 20 hours long. One of those was The Stand by stephen King, which was 47 hours long. So, I'm going to call it a win.
Audible also did a ton of great deals as the celebrated their 20th anniversary. Audible also created the Narrator Hall of Fame and had their first round in inductees. If you haven't check out the new Narrator Hall of Fame. I know several of my favorites were included and some that are new to me, but I'll be on the lookout for something from them, for sure. Last, Audible has a new package for romance readers. You get unlimited access to their list of books (look for the R on book page). It is $6.95 per month for members and $14.95 for non-members.
This if the final wrapup 2017 Audiobook Challenge! Special thanks to our co-host  Caffeinated Book Reviewer for joining us for this year.
Levels:
Newbie (I'll give it a try) 1-5
Weekend Warrior (I'm getting the hang of this) 5-10
Stenographer (can listen while multi-tasking) 10-15
Socially Awkward (Don't talk to me) 15-20
Binge Listener (Why read when someone can do it for you) 20-30
My Precious (I had my earbuds surgically implanted) 30-50
Marathoner (Look Ma no hands) 50+
My list

A big thanks to all the participants. We like to wish you all good luck with the giveaway. Giveaway is open to all who participated in the challenge and can receive the prize from audible.com.
Link your final post and enter the giveaway below courtesy of our co-host Caffeinated Book Reviewer . The winner will be chosen January 1, 2018

A big thanks to the participants!